UTM alumna Bernice Santos is a Whistler Independent Book Awards 2023 finalist

Santos blurs the lines between reality and illusion in Ghosts of a Cure. She talks about what inspired her to write the book.
When Bernice Santos found out that she had been selected as a Whistler Independent Book Awards (WIBA) finalist in the fiction category for Ghosts of a Cure, her debut novel, she couldn't believe it. "I don't think I fully processed that this book even exists," Santos says, nearly five months after its release. "It's an unbelievable feeling that it's come to this point where it doesn't just exist, but it's being recognized in a positive way, and I'm very grateful for it."
The WIBAs were established in 2016 to acknowledge Canadian excellence in self-published fiction, nonfiction, and children's books. Finalists receive one review on their submissions from each of two judges and are invited to sell their books at the Whistler Writers Festival. Winners receive the same prizes and more: the opportunity to be part of a full-page advertisement in Write magazine, a "one-year membership in the Canadian Authors Association", and "a reading event hosted by a branch of Canadian Authors."
Santos says, "the only reason I ever learned about the Whistler Independent Book Awards is because of Shannon Terrell." Terrell won for non-fiction with her memoir The Guest House: Stories of a Nervous Mind in 2022. "I don't think we went through a lecture where her name didn't come up. We had her book on hand. Guy Allen would be like, 'Okay, if you need an example of what a good typeset is supposed to look like, reference this book.'"
Terrell and Santos, both graduates of the professional writing and communication (PWC) major program at the University of Toronto Mississauga (UTM), published their books through WRI420H5: Making a Book. The course, taught by Professor Allen, offers students the opportunity to self-learn procedures and practices in book publishing, like editing, typesetting, and budgeting, so that they become published authors by the end of it.
"I didn't think I would [have taken] Making a Book, [but] I had really great support from an editorial group in another PWC class," Santos explains. "I didn't write anything in the book from other PWC classes, but I think at its core, [the book] was very much a result of the PWC program because of the way the idea was encouraged."
Ghosts of a Cure is a compilation of three stories that imagine the internal lives of anguished characters in the grip of "Cure," a psychedelic drug originally created to cease experiences of pain and anxiety in patients receiving end-of-life care. Cure is characterized by hallucinations that users can induce and manipulate to their own will, like lucid dreams. After escaping the clinical setting, the drug lands in the ordinary hands of those who hunger for escape, control, and agency.
The book opens with the story of a middle-aged author who first uses Cure to detail into literary existence a pair of long-thought characters, but then falls obsessively in love with his hallucinations of them. Then comes the story of a young grieving woman who spends her days in isolation as she revisits three-dimensional memories of lost loved ones under the influence of Cure. Last, the book ends with Cure's origin story, wherein the drug's creator illegally seeks to assuage her ailing wife's journey into death.
A member of the WIBA selection committee, Kilmeny Denny from Tidewater Press originally shortlisted the book. In an email to The Medium, Denny says she "was impressed by the ambitious, creative narrative structure of [Santo's novel] and the confident prose."
From cover to cover, ranging from a house that collapses in on its inhabitants to a seed that grows into an invasive weed, Santos's writing honours the interplay of nature metaphors and emotional experiences to reach and express the depths that befall human relationships. "Because of the intense nature of what these characters are going through, it just made sense to take these mystical, grand contrasts to illustrate what's going on in their heads," she says. "I really love nature settings—that's where I ended up forming a lot of these ideas for the book."
As a reader and a writer, Santos has always gravitated towards exploring internal worlds. As a writer, she prefers psychological unfolding to action-filled plots. "I'm not really sure where that came from. I guess I am an introspective person. I think I spent majority of my life just in my own head. I don't have siblings if that tells us anything."
Born and raised in Mississauga, Ontario, Santos was certain about her passion and aptitude for writing by the time she enrolled in the PWC program. It was early 2022,
during her third year, that she began writing Ghosts of a Cure on personal time.
For students interested in taking the Making a Book course, Santos's advice is to have a manuscript ready prior to enrolment. "Definitely know what you're up against. I don't recommend taking it on a full course load. If you're serious about publishing, you need to prioritize this course above anything else. There are going to moments of panic and self-doubt, but there's no time for that. What happens in this course is lots and lots of troubleshooting with lots of tight deadlines," she says.
"That being said, lean on your classmates, because if you decide to take the course, these people are your greatest allies. [The] four months will be all consuming and it's going to be incredibly frustrating at times, but offer support and figure things out together because it's going to be a very special thing to see each other holding products of hard work."
Despite potential rewards, Santos also cautions students about the reality that their work becomes indefinitely open to criticism through publication: "You have intentions as a writer, but obviously people are going to have their own interpretations. They're going to pick and choose what resonates, what doesn't. There might even be parts of the book that they hate, and that's okay because that's just the nature of being an author."
Ghosts of a Cure is available for purchase in paperback and e-book on Amazon. You can find more of Santos on her website bernicesantos.com.
WIBA 2023 winners will be announced at the Literary Cabaret at the Whistler Writers Festival on Friday, October 13.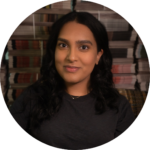 Sports & Health Editor (Volume 49)| sports@themedium.ca — Alisa is a third-year student completing a major in Professional Writing and Communication with a double minor in Political Science and Cinema Studies. She served as Editor-in-Chief of Mindwaves Volume 15 and Compass Volume 9 and was a recipient of the Harold Sonny Ladoo Book Prize for Creative Writing at UTM. Her personal essay, "In Pieces," appears in the summer 2020 issue of The Puritan. In 2022, she published her first poetry chapbook, Post-Funeral Dance, with Anstruther Press and wrote for The Newcomer as a journalist. When Alisa isn't writing, she's probably reading historical nonfiction, ugly-crying over a sad K-drama, or dreaming of places far, far away.