Shannon Terrell on The Guest House and the craft of writing

As a professional writer and UTM alumna, Terrell uses writing to evaluate her own growth and share impactful stories.
Creative writing is a vulnerable process. From short stories to full novels, the process of putting words to paper (or into a Word document) is often time consuming and feeds into our most precious insecurities. Before releasing their work to readers, writers receive feedback from trusted editors and spend countless hours re-writing. Their fingers cramp and they laugh and cry and want to chuck their keyboards across the room in a fury—but it's all worth it. Writing is an art of pristine rewards.
Shannon Terrell, a University of Toronto Mississauga (UTM) alumna and the author of The Guest House, spoke with The Medium about the non-linear writing journey that led her to complete her novel. During her time at UTM, Terrell double majored in English Literature and Professional Writing and Communications (PWC). In her final year of undergrad, she stumbled upon WRI420: Making a Book, taught by associate professor Guy Allen. The course helped Terrell combine a multitude of creative non-fiction short stories into The Guest House.
"The process of writing what is now The Guest House took place over the course of my entire undergraduate degree," said Terrell. "I was going to school part-time, so I was curating these stories over about five [to] six years."
After noticing "sizeable gaps" in her collection of stories, Terrell also took two independent studies in her final year. These courses, available through the PWC program, allow students to construct "a research/writing project" with a professor's guidance. Terrell's studies allowed her to further piece together what her manuscript was missing.
"I remember at one point during the [book making] process, I printed out each individual story and I had them all in my office. I am a visual person, so I had to physically see the stories and understand where they might fit in the broader scope of a manuscript," Terrell explained.
Aside from re-writes and rearrangements, Terrell spent a considerable amount of time reading as she wrote her novel. "I am a big advocate for reading what you want to write," she said.
As The Guest House is a collection of personal life moments based on her struggles with anxiety—described on the book's cover as "stories of a nervous mind"—Terrell read lots of memoirs that pertained to mindfulness. The words of other authors helped Terrell when writing about her own experiences.
"One book that I always suggest because it had a very profound impact on me is called Amen, Amen, Amen: A Memoir of a Girl Who Couldn't Stop Praying by Abby Sher," said Terrell. "I got so much out of her book, and I would highly recommend it to anybody that's interested in exploring creative non-fiction through the lens of mental health."
Recently, Terrell got to travel to Whistler, British Columbia, to participate in the Whistler Writer's Festival. The Guest House won the "Whistler Independent Book Award" in the category of non-fiction. Terrell was then invited to attend a book reading to promote her novel. She described the entire process as "surreal."
"The book has only been out [in] the world for a few years, but it still feels very strange when people approach me and say that they've read it or even that they are interested in reading it," said Terrell.
In relation to her writing style and her own feelings towards the novel, Terrell expressed that as more time passes, her writing continues to change. "Any form of art is constantly going to be melding and changing as you grow as a person, but also as the people around you change. When we create art, we don't want to see it stagnant, we want it to keep growing," she shared.
For new and aspiring writers, Terrell provided two simple pieces of advice: "make a habit of writing" and "submit your stuff." She mentioned that earlier in her undergraduate studies, she received advice that "writers should only be writing when they feel their most passionate." Taking this to heart, Terrell found that she was not writing at all.
"The more I thought about 'where is that spark' and 'where is that inspiration' the more it seemed to elude me," Terrell said. "I realized I just needed to make a habit of writing—even when I didn't feel particularity inspired. And that habit of writing is what can lead to sometimes the most profound break throughs."
On the topic of submitting work, Terrell advised new writers to pay attention to strict deadlines and submission windows for literary journals or book awards—both on and off campus. "You'll be really pleasantly surprised by the opportunities that pop up," Terrell concluded.
Currently, Terrell works as a writer and spokesperson for NerdWallet—a personal finance website. She recently published a short story in Issue 1 of Archetype—a literary journal created by UTM alumnus and previous Editor-in-Chief of The Medium, Ali Taha. Terrell is also working on a new fictional piece.
To purchase The Guest House and keep up with Terrell's work, check out her website at shannonterrell.com. The book is also available on Amazon.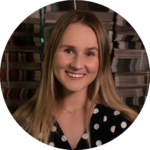 Arts & Entertainment Editor (Volume 49) | arts@themedium.ca — Julia graduated in 2022 with a major in English, and a Professional Writing and Communications and Drama double minor. She previously worked with The Medium as Theatre Erindale Correspondent for Volume 48. As the A&E Editor this year, Julia cannot wait to explore the wondrous world of arts and spark creative conversations amongst student writers. If she's not writing, working, or spending too much money on overpriced iced coffees, you can find Julia singing tunes with her guitar, bingeing Netflix shows, or going on nature walks with her doggo Benji. You can connect with Julia on LinkedIn or Instagram.