The timelessness of tropes

New renditions of old love stories have us continuously falling in love with the romance genre.
Enemies to Lovers. Childhood Friends to Lovers. Love Triangles. Familiar plots like these are found in books, movies, and TV shows—if there is a story with romance, we can bet that it uses a trope. And somehow, we cannot get enough of them.
Tropes act as a framework for how a story will play out, and due to their popularity, they are often used as a marketing tactic—like Netflix's compilation video that declared Enemies to Lovers as "The BEST Romantic Trope."
Despite everyone's awareness of how a story will end, determined by the trope's name, there is one thing that continues to capture the audience's attention: the build-up to the relationship. Very few stories show what happens after a relationship has begun because the culmination of it is usually more interesting.
Pride and Prejudice is a classic example of the Enemies to Lovers trope. Mr. Darcy is too prideful to associate with Elizabeth Bennet, and she is too influenced by her prejudice to even consider him. Even though their relationship is inevitable, the way that these characters develop and the way that they must overcome obstacles to be together makes the story timeless—as proven by the continuous adaptations.
Essentially, romance tropes are convenient plot devices for inciting conflict and for fleshing out characters, while promising that at the end of it all, the audience will get what they came for.
Tropes are attractive because there is comfort in the familiar; sometimes people just want what they expect. Yet, the general framework that tropes provide leave plenty of room for creativity and make an otherwise predictable story appealing. Bringing something new to the known keeps it from becoming repetitive—whether it is a different setting or unique characters—and makes the story seem refreshing rather than redundant.
Nora Ephron, the writer of When Harry Met Sally (one of the most popular romantic comedies of all time), uses tropes like Opposites Attract and Friends to Lovers in this beloved film. The journey that our unlikely pairing takes, filled with miscommunications and failed relationships, intertwines the novel and the familiar—making When Harry Met Sally the romance genre standard.
From ancient myths to Shakespeare, to Austen, and to the modern rom-com, each era contributes something new to tropes. With increased representation and the drive to tell more diverse narratives, stories like Simon vs. The Homosapiens Agenda, Schitt's Creek, Crazy Rich Asians, The Big Sick, and countless others are ushering in the next era of tropes—one where the universality of love is truly depicted. 
Three rom-com tropes we (still) love and why
By: Helen Yu, Comic Artist (Volume 48)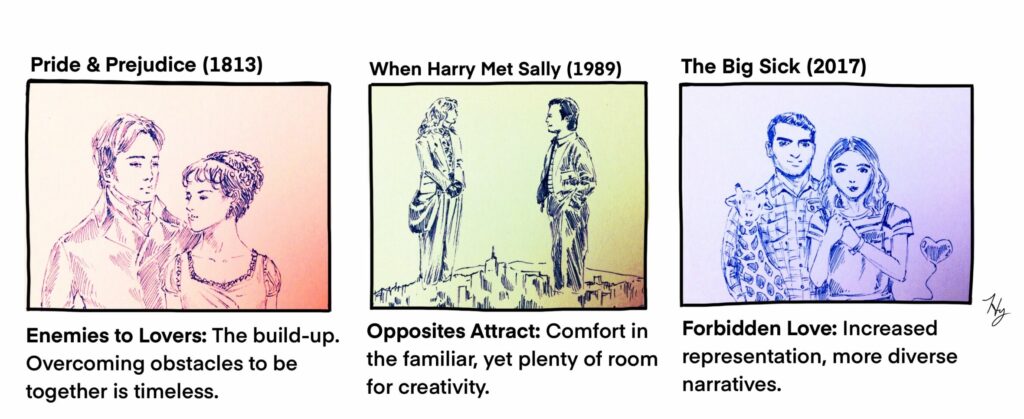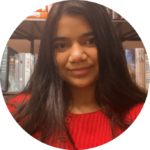 Staff Writer (Volume 48) — Shruti is currently in her second year at UTM and is double majoring in Psychology and English. Aside from trying to meet deadlines, she pours over books, repeatedly watches Doctor Who and Iron Man, bakes, and gets bullied by her cat.