A generation's experience told in ROM's #MyPandemicStory

Showcasing how the pandemic rippled through the creative minds of Ontario's youth.
As the number of vaccinated individuals increased in Canada, the daily lives of people have returned to some semblance of what they used to be prior to the sudden lockdown that began in the spring of 2020. Although it may be tempting to look toward the future, it is necessary to reflect on the implications of the pandemic—particularly on people who cannot effectively express themselves.
On October 23, The Royal Ontario Museum (ROM) unveiled their new exhibit "#MyPandemicStory: Youth Create Portraits of a Pandemic," featuring art about the pandemic from children in Ontario ages four to 18. This wide age range provides diverse experiences documented through various media.
The exhibit was announced in March, which marked the first full year of Covid-19 related restrictions in Canada. As a result, some of these children did not remember life apart from the pandemic, while others had to see their future plans fade away due to the lockdown.
While traditional artwork, like drawings and paintings, was prominent, the exhibit featured many other formats of media that the children used as an outlet for their creativity. Digital art, origami, clay sculptures, vlogs, videos, photographs, poems, essays, collages, and dance performances were among the many ways in which these children showcased their talents and experiences during the pandemic.
With over 2,300 submissions, the ROM chose 60 pieces to display on the first floor of the gallery—free of charge and available for public viewing until March 27, 2022. All 2,300 submissions can also be viewed on the ROM website's digital exhibition.
Some youths portrayed the effect that the repetitive and monotonous routines of the lockdown had on their mental health, such as in "[Esc]" by Aerin—a piece of digital artwork where a girl is seen lying still on her bed while her surroundings subtly change. In a description of their work, Aerin commented that "[this scene represents] a feeling of helplessness and stagnation […] nothing really happens and nothing is accomplished."
Other youths shared how art helped them manage the difficulties of lockdown. Regarding their piece titled "Appreciation," Gurleen stated that "something good came out of the pandemic. Being quarantined […] made me think creatively, make a self [discovery], and find a [therapeutic] expressive outlet." This painting featured a girl in colour weighed down by responsibilities, staring at a black and white reflection in the mirror—which reflects the darkness of the pandemic.
In contrast with darker imagery, other artists wanted to share a message of hope. In "Sperare," a painting that features a withered tree surrounded by cherry blossoms, Lorie wrote "the blossom trees show that eventually, a new season will begin, and the trees will flower. 'Sperare' means to hope, to wish, and to wait."
For this gallery—which marks the first crowd-sourced exhibition at the ROM—a panel of external advisors from various areas of expertise, such as psychology and education, were consulted prior to the curation of the physical exhibit.
The art of a generation will represent their experiences. It is important to view these artworks, all of which encompassed the voices of a generation that was tasked with the heavy burden of understanding and coping with the complexities of a pandemic. To understand, we must acknowledge.
This exhibit countered the isolation that the pandemic brought. The similarity in the themes and emotions conveyed in the artworks created a feeling of community, one that was based on these shared and relatable experiences.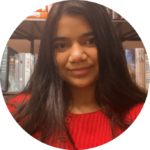 Staff Writer (Volume 48) — Shruti is currently in her second year at UTM and is double majoring in Psychology and English. Aside from trying to meet deadlines, she pours over books, repeatedly watches Doctor Who and Iron Man, bakes, and gets bullied by her cat.