Learning to love yourself in The Sky Blues
In our heteronormative society, a large struggle for the LGBTQ2S+ community is acceptance. Even when ignored, negative reactions are so pervasive that they can affect a person's self-perception. In his coming-of-age novel, The Sky Blues, Robbie Couch explores what happens after coming out, and how self-acceptance is the hardest battle to win.
The Sky Blues tells the story of 17-year-old Sky Baker, the only openly gay student at an extremely conservative Michigan high school. When Sky's plans to prompose to his long-time crush are revealed in a hateful email blast throughout the town, he tries to expose the perpetrator with the help of a diverse cast of friends.
At times, Sky finds it difficult to be himself—wearing his favourite pink shirt, swaying his hips while walking, and even the way he holds his books all make him a target for homophobic comments. So, he adjusts his behaviours and mannerisms to avoid being seen as "too gay."
From subtle mocking to blatantly offensive comments, Sky is never completely comfortable with himself in his environment, especially with a mother that threw him out of the house and a brother who despises him—all because of his identity. However, the story offers hope through the relationships he forms.
Sky's friends, teachers, and another openly gay man with a connection to his past all help him learn to be proud and appreciate himself for who he is. Throughout the book, his community comes together to defend and support Sky from the anonymous email hacker in the most heartwarming ways. They let him slowly take off his masquerade of conformity to finally accept himself and know that "you never have to prove yourself to anyone who doesn't accept you for who you are."
During this journey, Sky also understands that despite being part of the LGBTQ2S+ community, he can help fuel certain stereotypes. By speculating about another character's sexuality, gender, and pronouns, he sees how seemingly "harmless" thoughts can have the most adverse effects. Instead of justifying his behaviour, Sky apologizes for his actions and strives to be more mindful.
An admirable part of the novel is how it promotes the idea of putting yourself first. Sky is never pressured to listen to the explanations or apologies of the people who wronged him. It is not his obligation or responsibility to assuage someone else's guilt. He does not continue to let other people treat him miserably and begins to stand up for himself, choosing to prioritize his happiness and peace of mind.
In this moving debut novel, Couch sensibly tackles concepts like acceptance, depression, body dysmorphia, and racism. The Sky Blues brims with hope. Hope that even in the most awful and loneliest of times there will always be a community of people that will accept, love, and support you for yourself, even if it takes time to find them.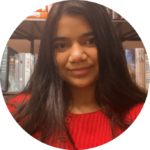 Staff Writer (Volume 48) — Shruti is currently in her second year at UTM and is double majoring in Psychology and English. Aside from trying to meet deadlines, she pours over books, repeatedly watches Doctor Who and Iron Man, bakes, and gets bullied by her cat.