Valentine's Day Mixtape

Five songs to listen to in the season of love.
From timeless classics to underground numbers, to contemporary melodies, here is a love-filled playlist that will have you yearning, romanticizing, and in your feels. It is a little piece of my heart, from me to you.
Say a Little Prayer—Lianne La Havas
"Say a Little Prayer" sung by La Havas, is a modern rendition of Dionne Warwick's original song. While the original song gives an upbeat, bouncy tempo, La Havas's version is slow, soothing, and sultry. The song expresses a deep love for a partner, so much that even between mundane activities, like combing their hair and riding the bus, they say a prayer for their loved one—a prayer for their wellbeing, for requited love, and for an everlasting partnership.
First Day of My Life—Bright Eyes
"First Day of My Life" is a heartwarming, soft-alternative song about the life-changing power of love. The title is a metaphor for that Love at First Sight feeling, in which a person feels as though their life has changed forever and for the better all because of one encounter. The song points to feeling rebirthed, renewed, and gratified upon falling in love, with lyrics like "I think I was blind before I met you," and "I'm glad I didn't die before I met you."
Baby—Donnie & Joe Emerson
This late '70s underground yet sublime ballad is for you nostalgic and romantic dreamers. Written by the then-teenage Emerson brothers, "Baby" embodies the sensual, passionate love shared between partners. The song describes an inseparable, passionate, head-over-heels kind of love—the kind where you cannot bear to spend time apart, as well as the kind where time appears to slow down, and the world seems to stop when you are together.
Feels—Snoh Aalegra
The soulful Aalegra delivers a funky yet sensuously raw number about not being able to get someone out of your head. She expresses the insatiable (and relatable) feeling of missing someone to the point where you lose sleep because you cannot stop thinking about them. Though these feelings were once unknown to her, she cannot help but long for her beau. When your thoughts are occupied daydreaming over someone, and when the thought of them brings on butterflies and flutters, you know you are falling for them.
My Cherie Amour—Stevie Wonder
As an all-time classic love anthem, the 1969 oldie explores the trying pursuits of love. Stevie Wonder sings about being in love with a woman who does not notice him. As he observes this mystery woman, his infatuation grows, and his pursuit is prolonged. The song entails the hopefulness of love; he longs for her attention and dreams about the day they can be together. In his mind, she is his "chérie amour" which is French for "darling love."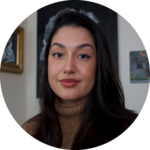 Staff Writer (Volume 48) — Serena is a third year Art History and Professional Writing and Communications student at UTM. As a creative, she's always been fond of viewing and creating art, and writing poetry.  If she isn't typing away at her desk, you can find her at an art gallery or museum, crushing an exercise, dancing to her heart's content, or cheffing-it-up in the kitchen.