You can't put a price tag on quality documentaries, or can you?

Documentaries can inspire radical, social change if its made accessible to all.
I come from a household of avid documentary-watchers. For as long as I can remember, the television has always been set on a channel featuring some kind of documentary, whether it be via TVO, or the History Channel. I recall not understanding certain documentaries as a child. I always thought my mom, who attended the University of Toronto, was so smart because she grasped things I didn't.
Over the last couple of years, my mom has continuously asked me where she can find documentaries about particular subjects. I'll respond with Netflix or Amazon Prime but to no avail, there is a limited selection, and, in my opinion, the majority lack in quality and authenticity. Discouraged and disappointed, we settle for what's available.
In our contemporary climate where online streaming platforms exist, and given the current global crises, why are relevant and renowned documentaries so inaccessible? Why are the best documentaries only accessible to those who have the means to access them, like exclusive film festivals?
Unlike other informational platforms such as news channels like the BBC or academic platforms, documentaries often approach their reportage through a neutral, unbiased, lens. The documentary style evokes candid, in-situ (on-site), and natural filmography. They may be observational, argumentative, poetic, or participatory.
Despite their multi-faceted nature, viewer interest is not as universal. Hot Docs, an international documentary film festival, surveyed an audience of 3,607 Canadian documentary enthusiasts in 2018. Of the 3,607 participants, 76 per cent held university degrees, 18 per cent held college diplomas, and the remainder had no higher education.
So, why do documentaries seem so niche? Why is it that most viewers maintain university-level education?
In my opinion, it's because of their inaccessible nature. Firstly, the average consumer may not gravitate toward certain subjects or themes which are not meant to simply entertain. Secondly, available content may be hard to follow, confusing, or inadequate. Thirdly, the enforced paywalls via subscription services are an added monthly cost that consumers don't want, or can't, add to their list of necessary expenses, especially when inflation has racked up the cost of living.
The lack of universal access has created an exclusive, almost elitist, niched culture. Audiences feel like documentaries are out of reach, both figuratively and literally.
Media collectives like VICE have launched online initiatives to release free documentaries to combat the pretentious narratives and inaccessibility that surround documentaries. The goal is to create an online archive of subscription-free, educational, content, that explores a range of topics and issues in a digestible manner.
In a new series called The Shortlist with Suroosh Alvi, the co-founder of Vice Media and accredited journalist, renowned documentaries air as episodes that are accessible to all. Alongside each airing of these festival-featured documentaries, Alvi features segments where he interviews the filmmakers and other interviewees.
Now, I believe that documentaries are a fundamental outlet for information and relevant discourse. Education through filmography allows for more appeal because let's be real, not everyone enjoys reading the way they do watching. People enjoy watching films. Many people are visual learners. Images may resonate more than words. That's why VICE's initiatives are vital to breaking down inaccessibility barriers. Viewers should be able to access documentary content for free, especially good and relevant content.
Documentaries shouldn't be withheld from the general public just because of paywalls, or lack of higher education, or because film festivals say so. Documentaries call attention to international concerns, bringing relevant matters to light, and can inspire radical, social change. If VICE can release free, renowned documentaries, other collectives will be inspired to follow suit, and more people will gravitate toward documentaries. After all, you can't put a price tag on dedicated, well-researched, quality information and education, although film industries and institutions say you can.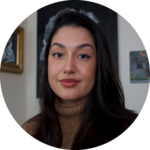 Staff Writer (Volume 48) — Serena is a third year Art History and Professional Writing and Communications student at UTM. As a creative, she's always been fond of viewing and creating art, and writing poetry.  If she isn't typing away at her desk, you can find her at an art gallery or museum, crushing an exercise, dancing to her heart's content, or cheffing-it-up in the kitchen.