The Show Goes on with Theatre Erindale

An introduction to Theatre Erindale that reflects on the past season and looks forward to the next.
Theatre Erindale, the production company of the theatre and drama studies (TDS) specialist program, is the main provider of student performances on campus. The University of Toronto Mississauga (UTM) boasts two theatre buildings: Theatre Studio Erindale, located beside Deerfield Hall, and the MiST (Multimedia Studio Theatre), located on the main floor of the Communication, Culture, and Technology Building (CCT). Both theatres participate in Theatre Erindale's yearly season.
The main theatre building, Studio Erindale, is known as a black box theatre and seats up to 90 audience members in an intimate, simplistic setting. The building itself was once a bus garage and science lab. In 1993, it was converted to what we now know as Theatre Studio Erindale. Today, this charming building houses some of the most recent technology in lighting and audio while allowing performers and audience members to configure the space for any performance style. From contemporary dramas to fashion shows and musicals, Theatre Studio Erindale has seen it all.

During the 2020 to 2021 academic year, amid the shift to online teaching during the pandemic, Theatre Erindale remained busy, putting on a spectacular lineup of online productions. To kick off this new jump into virtual theatre, the third-year TDS students created an entirely cast-devised theatre project titled From The Ground Up, a piece that touched on isolation and the strength of community. The third-year students also performed two highly acclaimed classical plays: William Shakespeare's A Midsummer Night's Dream and Romeo and Juliet. Additionally, the season presented wonderful works performed by TDS fourth-year students, including professionally directed productions of Helen Edmundson's Anna Karenina, Thomas Middleton and Thomas Dekker's The Roaring Girl, Caryl Churchill's Love and Information, as well as Theatre Erindale's first-ever audio drama, The Cecil Hotel, written by David Yee. On top of their mainstage season, Theatre Erindale also presented The Beck Theatre Creation Festival—an annual festival that allowed students in TDS to write, direct, and star in their own plays.
Recently, Theatre Erindale announced their 2021 to 2022 mainstage season and revealed some exciting news. The plays for next season include: If We Were Birds by Erin Shields, An Enemy of the People by Henrik Ibsen, Fefu and Her Friends by María Irene Fornés, and The Servant of Two Masters by Carlo Goldoni. These productions will touch on the powerful themes of gender roles, individualism, revenge, and hindered love. When the mainstage season begins, you can find tickets online, order by phone, or purchase tickets in-person at the Box Office. More information can be found on the UTM website through the Department of English & Drama or through updates on their Instagram page @theatreerindale.
If you are someone interested in theatre but are not in the TDS program, do not fret. The UTM English and Drama Student Society (EDSS) provides opportunities for students across campus to get involved in writing, directing, producing, and acting in live theatre. Although these shows are not a part of Theatre Erindale's season, they are all student-run and another great way to get involved with theatre on campus. As for Theatre Erindale, stay tuned! When the TDS students put on a show, it is not something you want to miss.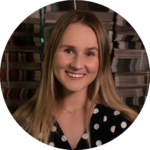 Arts & Entertainment Editor (Volume 49) | arts@themedium.ca — Julia graduated in 2022 with a major in English, and a Professional Writing and Communications and Drama double minor. She previously worked with The Medium as Theatre Erindale Correspondent for Volume 48. As the A&E Editor this year, Julia cannot wait to explore the wondrous world of arts and spark creative conversations amongst student writers. If she's not writing, working, or spending too much money on overpriced iced coffees, you can find Julia singing tunes with her guitar, bingeing Netflix shows, or going on nature walks with her doggo Benji. You can connect with Julia on LinkedIn or Instagram.