The rise and risks of crypto gambling on Twitch

Is streaming crypto gambling on Twitch designed to lure unsuspecting victims into losing their hard-earned money?
As the seventh most popular category of streams on Twitch, crypto gambling has taken the cyberworld by storm, which is not necessarily positive. Every computer, tablet, or smartphone can now be used as a gambling device by persons of all ages. Although the origin of gambling is unknown, it has been practiced for centuries in China. Until 1638, when the first public legal casino, The Ridotto, was built in Italy. Back then, no one would've dared to imagine that technology would be able to place a casino in the hands of anyone, anywhere, anytime.
Thousands of Twitch streamers regularly broadcast their crypto gambling activities to an open audience. However, many of these streamers are reported to have been paid by casinos to engage in making such content. Popular streamers such as Tyler Niknam, better known as Trainwreckstv, who currently holds 2.1 million followers on Twitch, are heavily sponsored by online casinos, like Stake.com. Even high-profile celebrities like Drake have started to engage in crypto gambling on the streaming service.
This sounds great, right? Streamers are making money from sponsors, and subscribers are entertained. It's a win-win!
Well, not so fast. Bloomberg reports, "at any given time, over 50,000 people are watching Twitch celebrities play slots, Blackjack and other games of chance, primarily gambling with cryptocurrencies like Ether and Bitcoin." This means over 50,000 people from all over the world—of all ages–are almost constantly exposed to gambling. Convenient, right?
But is it safe to broadcast crypto gambling to an unsuspecting public? It doesn't seem so. Famous Twitch streamers sponsored by these online casinos can therefore negatively impact their viewers as they may lure them into engaging in the act of crypto gambling themselves. Some viewers found themselves repeatedly placing bets on crypto gambling websites, following streams from their Twitch role models. Many times, Twitch streamers even provide promotional codes to encourage viewers to tap into the world of crypto gambling, keeping them wanting more and more. The volatility of cryptocurrency, coupled with the risks associated with online gambling, form a dangerous combination that makes crypto gamblers susceptible to losing thousands or even millions of dollars in mere minutes.
Recently, however, Twitch has announced that the streaming service will be prohibiting slot, roulette, and dice gambling sites including Rollbit, Duelbits.com and Stake.com that "aren't licensed either in the US or other jurisdictions that provide sufficient consumer protection." The ban goes into effect on October 18, 2022. According to CNBC, this policy amendment "comes after some of the platform's top streamers threatened to stop using the platform if Twitch didn't change its policy on gambling streams." Honestly, I think that this ban is limited in its effectiveness.
So, can we deduce that gambling in traditional casinos perhaps involves less risk than crypto gambling? Yes, we can definitely view gambling in casinos as a lesser evil because there is less room for fraud when you receive your winnings immediately. Traditional gambling also restricts gambling to the casino, which can only be accessed by legal adults.
Broadcasting crypto gambling to an open audience is very unsafe, as viewers, especially minors, have easy access to it. Crypto gambling is a highly risky venture that I would not recommend anyone undertake due to cryptocurrency's instabilities and the high probability of incurring losses that shouldn't be endorsed to anyone.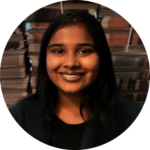 Staff Writer (Volume 49) — Angelina Jaya Siew is currently in her first year at UTM, seeking to specialize in Criminology, Law and Society and minor in French. After completing her secondary education in Trinidad and recently moving to Canada, she started writing for The Medium as a way to to highlight important global issues and encourage debate on controversial topics. When Angelina is not writing or studying, she is reading the latest mystery novel, travelling to different countries, or getting her almond milk vanilla latte at Starbucks.