Where are those who care? A genuine question for would-be voters

In times like these, electoral participation is critical.
We've all seen them before—in the weeks and months leading up to an elections, public holidays, or days of remembrance, government-sponsored ads flood social media. Reminding us to stay masked, get vaccinated, pause in remembrance, or rush to the polls. They're certainly important messages, but are these advertisement campaigns truly effective?
Over the past few years, voter turnout has been falling, with this past June's Ontario provincial election recording the lowest voter turnout in the history of the province—only 43 per cent of eligible voters showed up to the polls. However, Ontario isn't the only province with low turnout—just 55 per cent of Manitoba's eligible voting population participated in their 2019 general election.
Québec recently looked to social media for aid in encouraging voters—especially youth—to head to the ballot box on Monday, October 3. Elections Québec began a social media campaign on TikTok using a series of videos that were everything from funny to odd. In one video, a disembodied arm can be seen dropping sundae ingredients into a ballot box, with "an increasing participation rate" being the "cherry on top." In another, the ballot box grows arm in an attempt to do a set of pull-ups, giving itself a pep-talk on the importance of voting. The videos are cute and vaguely amusing, and there's no denying that the effort is to appeal to younger voters.
However, a turnout of less than 60 per cent is still expected, so what impact, if any, is this recent campaign having? Are the youth of Québec more convinced to go to the polls? If Elections Ontario had done something similar, would the historically low turnout still have been what it was? I suppose we'll see on October 3.
I'm sure these provinces featured the same social media advertisements that Ontario did in anticipation for election day. It felt like every third post was sponsored by Elections Ontario, on both TikTok and Instagram. Besides that, almost everyone on my feed was reposting stories and reels, reminding everyone to vote. I was already planning on voting, and did, and maybe that's why these posts didn't really stick with me. They weren't telling me to do anything I wasn't already planning to do. It seemed like everyone was planning to vote, so why was turnout so low?
I ask this question specifically to young people. In 2021, only 47 per cent of people aged 18 to 24 voted, according to Elections Canada. They go on to say that voting is "habit forming," meaning that someone who votes in one election will likely vote for the rest of their life. Is that where the answer lies?
Seeing these videos posted by the Québec campaign, I can't help but wonder who's listening to their messages, because they certainly seem to be going unheard. When I walk around campus or scroll on social media, it's impossible to not hear the cries or complaints of the indignant. And frankly, the problem is that I can't disagree with them. Changes to the system like a higher minimum wage, better public transportation (have you ever tried to crowd onto the 101 in time for a 9 a.m. lecture?), and more action against climate change: I'm all for them. And so, we vote. We make our opinions heard. We should give a platform to those who we feel are most likely to represent our goals. Our elected representatives are meant to represent the people, after all.
The situation that we're all living in can be scary and calls for the fulfilment of your civic duty. In a time where it feels like the world is either burning or already burnt, helplessness is not an uncommon sentiment. But when I hear people bemoan these things as hopeless, I wonder: did you vote?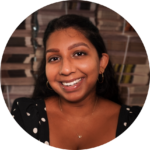 Staff Writer (Volume 48 & 49) — Hema is currently in her final year, finishing a double major in Linguistics and French Language Teaching and Learning. She previously served as a Staff Writer for Volume 48 of The Medium. Her favourite part of writing is the opportunity to research new topics, speak to new people, and make her voice heard, and she hopes that her articles can spark this interest in other students. In her spare time, you can find her in bed reading with a cup of coffee (and she's always looking for more book recommendations!).