Stigma towards mental health remains an obstacle to healing

Stigma surrounding mental health and substance use issues in Canada continues to present barriers towards seeking assistance and recovery.
According to a 2023 survey by the Mental Health Commission of Canada—a not-for-profit organization established by the Canadian Government to research mental health matters—the issue of stigma continues to be a prevalent concern for individuals dealing with mental health or substance use disorders.
Looking at a population of more than 4,000 Canadians, almost half of whom "disclosed they were living with a mental health or substance use disorder," 95 per cent of survey respondents reported that they had experienced the effects of stigma within the last five years. Notably, 72 per cent of those expressed feelings of self-stigma through harboring self-critical thoughts. In addition to these findings, 40 per cent of respondents revealed that they faced stigmatization while receiving treatment. The survey's research backgrounder also found that "Canadians expect individuals with mental health or substance use disorders to be devalued and discriminated against" on a daily basis.
Respondents from this survey identified the implementation of improved access to mental health care and resources, whether preventative or ongoing, as well as reduction of stigma as initiatives that should receive the highest priority.
When considering the issue of mental illness, what does the term "stigma" truly mean? Stigma describes processes or views through which a person is ridiculed or belittled because they struggle with some form of mental illness. Stigma arises due to the widespread misunderstanding of the nature of mental illnesses or the harboring of negative biases against it.

For example, someone with an anxiety disorder may be told they need to be braver and bolder, or they may have depression and be told that they need to cheer up or "snap out of it."
Treating someone differently, belittling them with labels like "quirky" or "temperamental," excluding them from participation in group activities, and stereotyping all create stigma and negatively affect someone suffering from mental illness. In all its forms, creating stigmas and using these harsh labels not only discriminates against others, but suppresses their desire to seek help for fear of ridicule and embarrassment.
How can we address the stigma surrounding mental health issues? According to the Mental Health Commission of Canada's magazine, The Catalyst, the answer lies in creating a culture where "seeking help is a sign of strength — not weakness — and […] mental health is just as important as physical health."
Stigma is also extremely harmful to those suffering from substance use problems for several reasons. It prevents a person from seeking help for their addiction, causes them to conceal their drug use, affects their ability to access housing and jobs, and can even lead to these individuals receiving a lower quality treatment from healthcare systems.
With regards to opioid use, recent statistics have illustrated that Canada is far from faring well. From January to December 2022, an average of 20 people died daily due to opioid overdose.
Therefore, it is necessary to change the way society discusses drugs and drug users in order to reduce stigma. This can be as simple as using kinder words, which encourages individuals to harbour trust in those around them and seek help. For example, instead of referring to an individual as a "drug addict," the term "people with substance use problems" is more appropriate.
Remember that a person is never defined by their drug use or mental health issues. Educating friends and family, challenging stereotypes, and showing respect and compassion to those struggling with substance abuse or mental health disorders is critical in helping them to find the road to recovery and bettering our society.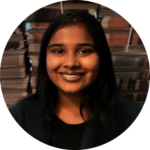 Staff Writer (Volume 49) — Angelina Jaya Siew is currently in her first year at UTM, seeking to specialize in Criminology, Law and Society and minor in French. After completing her secondary education in Trinidad and recently moving to Canada, she started writing for The Medium as a way to to highlight important global issues and encourage debate on controversial topics. When Angelina is not writing or studying, she is reading the latest mystery novel, travelling to different countries, or getting her almond milk vanilla latte at Starbucks.