Canada's Indigenous communities left vulnerable by Meta's news content block

Bill C-18, the Online News Act, is severely curtailing the Indigenous peoples' primary source of potentially lifesaving information in times of emergencies.
Bill C-18—the Online News Act—received royal assent on June 22, 2023, and will take full effect by December 19, 2023. The purpose of this Act is to "[regulate] digital news intermediaries," with the aim of "[enhancing] fairness in the Canadian digital news marketplace" and supporting the long-term viability of all Canadian news businesses. In essence, the Act seeks to ensure that Canadian news agencies are compensated for the use of their content by intermediaries such as Meta (the owner and operator of Facebook, Instagram, and other platforms) and Google by creating a "bargaining framework to ensure that platforms compensate news businesses fairly."
According to CBC News, the federal government estimates that Google would need to compensate Canadian news outlets with C$172 million in compliance with the Online News Act. Meta would need to provide Canadian news outlets with approximately C$62 million.
The Online News Act concerns nearly every Canadian citizen, though its impact is liable to be more intense amongst the more than 1.8 million Indigenous people living in Canada. As many Indigenous communities are located in isolated regions, Meta's ban on sharing news content due to Canada's Bill C-18 makes it more difficult for such communities to access timely news reports.

Social media has long been an important tool used to inform the Indigenous community. The ban imposed by intermediaries has led to not only a decrease in news content creators' revenue streams but has also reduced the efficacy of rapid dissemination of information—including those related to urgent, emergency situations. One such example is the sharing of critical information required to protect property and life due to risks posed by wildfires.
In an open letter to Meta's President of Global Affairs, Nick Clegg, dated August 22, 2023, Catherine Tait, President & CEO of CBC/Radio-Canada called for an end to the technology giant's news ban for communities threatened by wildfires. She referred to over 600 wildfires in the Northwest Territories and part of British Columbia—a region home to many Indigenous people. In light of this, she appealed for an exemption on Facebook for accounts specific to alerting and communicating with wildfire-affected communities on humanitarian grounds.
In July 2023, the Associated Press reported that "106 wildfires have affected 93 First Nations communities this year, and there have been 64 evacuations involving almost 25,000 people, according to Indigenous Services Canada." Furthermore, Linda Powless of Turtle Island News, a weekly Southern Ontario publication dedicated to informing the native communities, expressed her concerns over the blocking of news content on Meta-owned media platforms. She confirmed the financial losses that her news outlet has been subjected to through this act and stresses that local news outlets are especially important in getting urgent information to remote Indigenous areas very quickly. This dispersion of information is especially crucial considering the rapid spread of life-threatening wildfires.
While Powless hopes that Meta will end its ban, the technology giant has taken steps to end news availability on its Canadian platforms. In response, the federal government has suspended all advertising on Facebook and Instagram from July onwards—when the government deemed Facebook uncooperative. Chiming in on this issue, Prime Minister Justin Trudeau stated in an interview with CBC that the conflict with Facebook and Google over C-18 is a "dispute over democracy," reaffirming that the government had no intention to repeal Bill C-18 as of July 2023.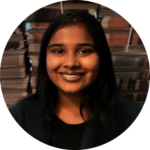 Staff Writer (Volume 49) — Angelina Jaya Siew is currently in her first year at UTM, seeking to specialize in Criminology, Law and Society and minor in French. After completing her secondary education in Trinidad and recently moving to Canada, she started writing for The Medium as a way to to highlight important global issues and encourage debate on controversial topics. When Angelina is not writing or studying, she is reading the latest mystery novel, travelling to different countries, or getting her almond milk vanilla latte at Starbucks.