UTMSU Fall By-election voting begins soon

The UTMSU will be holding its Fall By-election to elect representatives for the Board of Directors, who will meet monthly to contribute to the UTMSU's future initiatives.
The 2023 University of Toronto Mississauga Students' Union (UTMSU) Fall By-Election will be taking place from October 3 to 5. Members can run for one of the four eligible positions on the Board of Directors for the year. These include two First-Year Representatives, one Part-Time Representative and one Professional Faculty Representative.
The Medium reached out through email to Greg Owens, Chief Returning Officer, to ask about the election process. "Each fall, first year students are given the opportunity to put their names forward to become representatives on the highest decision making body of their student union as a way to ensure first year students do not need to wait until second year to have representation on the Board," says Owens. "If successfully elected, the new representatives will join the Board of Directors in their role of meeting monthly to receive an update from the executive, provide governance oversight and discuss future initiatives of the organization."
According to Owens, "There was a plan to hold a by-election for a Division III (Part-Time) and Division IV (Professional Faculty) Representative, however, no candidates completed the nomination process. These roles will remain vacant until their standard elections in the Spring of 2024."
As for safeguards to ensure a fair voting process, Owens says, "Students will have the opportunity to vote in person from 9 AM – 6 PM on October 3rd, 4th and 5th across the UTM campus at one of our six polling locations." Voters will need to bring their T-card for verification, and voting will be conducted in person only.
"We utilize Elections Canada voting screens and ballot boxes, which are sealed and stored in a secure location only accessible to a limited number of senior election staff for the duration of the election period. Ballot counting occurs in a systematic manner by certified election staff under the supervision of the Chief Returning Officer and individual candidates may identify a scrutineer to represent them and observe this counting process as well," explains Owens. The election follows the Elections Procedure Code, which clarifies rules related to fair play and delineates the process to appeal and file complaints. Candidates can request re-counts and contest the election's validity if they are concerned about its fairness.
Candidates are not obligated to provide a statement on the UTMSU website, which is "simply one manner of campaigning that the UTMSU offers forward to candidates as one location to advertise," explains Owens.
The following candidates are running for the first-year representative position on the Board of Directors:
Keerat Bhatia did not provide a statement.
Aryaman Chopra's candidacy centres on inclusivity, transparency, and the representation of international students. Chopra states that "[inclusivity and transparency] will be at the forefront of my agenda, ensuring every student feels represented."
Lujayn El Shobokshy's candidacy focuses on mental health, including making "[student] mental health a forever priority and [giving] them a sense of control over their lives."
XingYi (Freya) Gao's candidacy focuses include "transportation for off-campus students, safety, [and] diversity" to ensure every student feels "valued, safe, and empowered to excel."
Saba Halabisaz's candidacy focuses on listening to student concerns and bringing them "to the rest of the board and make sure that the UTM Student Union is acting in alignment with its laws, policies, and goals."
Albert Pan's candidacy goals are to "advocate for recorded lectures, since life happens and going in-person may not be an option" and "to represent every opinion and idea equally and fairly to the Board of Directors."
Owen Zhang's candidacy goals include lowering international student tuition costs or calling for a tuition freeze, improving food option flexibility across campus food providers, increasing the quantity of equipment in the RAWC's gym, and pushing for better Wi-Fi services in the school residence.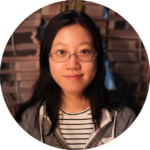 Staff Writer (Volume 49) — Hannah is a third-year student double majoring in Communications, Culture, Information and Technology and Professional Writing and Communications. In her spare time, Hannah can be found running her sticker shop The Aesthetics Studio and listening to true crime podcasts while drawing. Hannah's previous publications include UTM's Professional Writing and Communication official journal of creative non-fiction Mindwaves Vol. 15 and research in Compass Vol. 9. Hannah was also an associate editor for Compass Vol. 9. Find Hannah on Instagram and LinkedIn.