The fourth annual Be Well UTM: Resource & Activity fair

The Health & Counselling Centre offers a variety of workshops and resources for students.
The Health & Counselling Centre at the University of Toronto Mississauga (UTM) ran their fourth annual Be Well UTM: Resource & Activity Fair last week from September 20 to September 24. This virtual fair contained a selection of workshops and resources for students, centered around physical and mental health.
The resources and workshops included Resource Spotlights, Wellness Talks, Fitness Classes, Wellness Workshops, and CCR Community Cafes. They focused on a variety of subjects such as mental health, dance, food, art, finance, and physical activity.
Students who attended had the opportunity to earn a $10 lunch gift card and a CCR credit.
One of the Resource Spotlights I attended, called BounceBack, is a three-to-six-month program that focuses on building skills to cope with depression and anxiety. This program is managed by the Canadian Mental Health Association (CMHA) and available at no cost. Anyone interested can check out bouncebackontario.ca for more information.
Another session I attended called Mental Health Hour, gave BIPOC and QTBIPOC students a chance to share their thoughts, feelings, and experiences. This session will continue to run on the last Wednesday of every month from 2 to 3 p.m. Those interested can reach out to vi.phan@utoronto.ca or check out the Health & Counselling website for more information.
Another student, Dalainey Gervais, who is studying linguistics and anthropology at UTM, helped lead a Resource Spotlight for My SSP. My SSP is a resource that provides students free, confidential mental health support 24/7. U of T students can call 1-844-451-9700 if they are within North America and 1-416-380-6578 if they are outside of North America. UTM students who want more information can reach out to sas.utm@utoronto.ca.
"The resource spotlights [were] a great opportunity for students to learn about services on campus," says Gervais. "I was also really shocked to see how many programs I have access to that I have never heard about before even though I've been on campus for four years," Gervais adds.
My SSP offers a free app that students can download from the Apple App Store or Google Play Store for access to wellness resources and live support from experienced professionals.
While the Be Well UTM: Resource & Activity Fair lasted for a week, the Health & Counselling Centre continues to offer Wellness at Home, a "virtual program featuring daily wellness workshops, activities & resources from Mondays through Fridays." These workshops focus on topics such as meditation, food, self-care, and building community.
Students can follow UTM's Health and Counselling Centre (@utmhccwellness) on Instagram for information on upcoming events.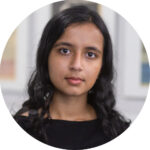 Sports & Health Editor (Volume 48) | sports@themedium.ca —
Duaa is a third-year student completing a double major in Professional Writing and Communication and Biology. She is in love with coffee and becomes way too attached to books and TV shows. Duaa plans to pursue journalism in the future. She is passionate about writing both nonfiction and fiction. In her free time, Duaa likes to read, write short stories, and paint.