February's fragments with Duaa

Returning to childhood comforts in the cold and chaos.
Stories have always played a huge role in my life. It is a bit cliché, but as a kid, I always formed stronger connections with books than with my peers. When I was not reading, I was thinking about what I had read. Narratives that ended on paper continued to flourish and grow in my mind.
The music I listen to always connects back to this. When someone asks me to describe what kind of music I like, it is always hard to answer. My only criterion is that the lyrics and music resonate with something I have read. In a way, the songs are like fragments of a narrative, capturing a character, scene, or mood. Some songs, such as Boyce Avenue and Kina Grannis's "Fast Car" cover, directly tell a story. With other songs, such as Taylor Swift's "illicit affairs" or Jasmine Thompson's "Mad World" cover, it is the complex, haunting atmosphere that has stayed with me long after I first heard them.
I am not always big on trying new things. I like structure and familiarity, and I can cycle back to the same songs every few weeks. This is especially true in situations where I feel overwhelmed or out of control in my own life. If I temporarily cannot understand the real world, it is relieving to lean on a fictional one.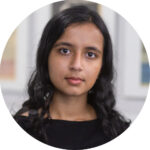 Sports & Health Editor (Volume 48) | sports@themedium.ca —
Duaa is a third-year student completing a double major in Professional Writing and Communication and Biology. She is in love with coffee and becomes way too attached to books and TV shows. Duaa plans to pursue journalism in the future. She is passionate about writing both nonfiction and fiction. In her free time, Duaa likes to read, write short stories, and paint.