Students and newcomers receive support from ongoing aid programs

U of T hosts panel events and clothing drives to collect donations and gather resources to give back this winter season.
With winter approaching and the fall semester coming to an end, many U of T support programs have made a return this year. Some have been newly implemented, while others were reintroduced.
One of which is the University of Toronto Mississauga Student Union's (UTMSU) annual clothing drive. From November 22 to 26, the union provided donated clothing items to students and anyone else in need this holiday season.
At the University of Toronto Mississauga (UTM), donations were collected in the Presentation Room, located in the Student Centre, from 11 a.m. to 5 p.m. Some clothing items were left in the Food Centre for students, while another portion was donated to non-profit organizations.
Students were encouraged to bring gently used or new clothing items to the event. Winter clothing items such as gloves, hats, coats, and socks were especially encouraged to be donated. All clothing items were washed prior to being donated and students were reminded not to bring any intimate clothing items.
As an incentive, students who donated were able to participate in a raffle to win Raptors tickets.
The Medium spoke with President of the UTMSU, Mitra Yakubi, via email about the annual drive. Yakubi commented on why she believes the clothing drive is an effective way of giving back and states, "Clothing drives are an amazing way to give back to the community and to reduce the negative impact of fast fashion. A lot of the waste that is in our oceans and dumps are clothes, especially clothes that can still be worn."
"Therefore, instead of contributing to a system that harms our environment, students are encouraged to bring the clothes that they simply don't like and wear anymore to our drive," she continues.
Yakubi also comments on why students should feel a desire to give back after experiencing insecurity following a pandemic.
"Students should feel motivated because the pandemic has affected people in many ways. Many people are struggling financially, as they've lost their personal or parental source of income and are having a difficult time accessing basic necessities. This is a great way to give back and support their community."
As a way to combat food insecurity, the UTMSU will continue to provide free food to students through Free Breakfast Wednesdays and Free Late Night Dinners. This will allow students to feel less anxious about accessing a proper meal, especially when studying for exams.
Additionally, the UTMSU will be giving away exam de-stressor bags filled with items to help support students through their exams this year.
The University of Toronto Mississauga Pre-Law Organization (UTMPLO) is another organization that gave back this year. This year, UTMPLO hosted a Holiday Charity Social panel event, virtually and in-person, on November 26 from 6 p.m. to 8 p.m. Tickets were $2, and all proceeds were donated to the Sick Kids Hospital.
The event provided students who have an interest in law with the opportunity to ask questions to Jordana Goldist, a criminal defence lawyer in Toronto, and Taylor Mcglashan, a law student at Ohio State University.
U of T's St. George campus has also devised efforts to give back this winter. RefugeAid hosted a winter clothing drive for refugees and newcomers which took place at the Buttery of Trinity College. The drive started on November 28 and is running until December 5. With aim to provide newcomers with warm clothing needed to get through Canadian weather, the organization will continue collecting donations for the community.
These events encourage students at U of T and UTM to consider and provide for those in need this winter season. With a giving community, these efforts strive to support newcomers, students, and children, with support systems that foster their wellbeing and growth.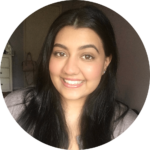 Staff Writer (Volume 48) — Anjalli graduated with a Specialization in Political Science and a minor in English. Through her contributions at The Medium, she aims to educate readers on the unique complexities of life and how we strive to overcome challenges collectively through policies and voice. In her free time she enjoys reading the latest news, meditating by her Saje diffuser, or looking at Pinterest for fashion inspiration. If you ask Anjalli what her favourite food is, she'd reply "a green dragon sushi roll!"