Embracing a safe space for LGBTQ2s+ communities with UTM's Positive Space Committee

UTM Positive Space Committee introduces new plans and ideas for students to expect in the next year.
The University of Toronto Mississauga's (UTM) Positive Space Committee hosted their first meeting this year on November 15. Led by Ignacio Mongrel, the co-chair of the committee, the meeting discussed upcoming events and plans for students in the winter semester.
First started in November of 1995, the group was a way for the LGBTQ2s+ community to find a free space to express themselves and feel comfortable in the presence of others. The group is open to all students at UTM and—as stated on their website—the group aims to "increase visibility and talk about sexual diversity."
The committee was created through informal networking on campus, where meetings were held to discuss any issues identified by students.
At the meeting, Mongrel discussed a few events the committee will be hosting within the next year. Specifically, Mongrel opened up about their last meeting in June where they talked about U of T Pride Pitch, a social entrepreneurship initiative where students can compete for a cash prize of $5,000.
This was the second year of the event. Mongrel mentions that the committee has since received funds from Youth Change Entrepreneurship to continue the program.
"We got more money than we did last year—our cash prize increased. We also had more applications than last year, we had about 16 applications last year, and this year we got around 40." In total, Mongrel reveals there were 60 attendees at the event.
"As we get closer to Pride Month in 2022, we can get a closer look at what that would look like." Mongrel mentions that there is a possibility that Pride Month will be in-person, where UTM Principal and U of T Vice President Alexandra Gillespie offered to host the event in her home at Lislehurst. Located on Principal's Road, the number of guests to be invited is yet to be announced.
There were also many discussions at the meeting regarding ways to support the LGBTQ2S+ community. One of the ideas consisted of creating a mentorship program that would enable students to share their experiences outside of academia. Mongrel mentions that this specific plan could be something the committee will look into for those who may be interested.
One student at the meeting finds this idea to be rather beneficial. "Someone who is like me or had similar struggles and has come out successful, and [is now] doing what they are passionate about would be a great opportunity [to share]." Mongrel states that for their next meeting, attendees can expect to hear more about the program.
The committee also mentions they will continue to use social media as a way of making announcements and growing their community. Though it is quite difficult to host in-person events, the group will carry on with organizing virtual meetings for UTM students.
The committee will continue to support LGBTQ2S+ students by being open to new ideas and hosting frequent events for everyone to participate in and enjoy.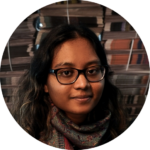 Staff Writer (Volume 49); Associate News Editor (Volume 48) — Razia Saleh is currently completing a Biology degree at UTM. She has been involved with The Medium since 2020 as a contributor and continued to write for The Medium as an Associate News Editor during Volume 48. She hopes that her experience as a writer with The Medium will help her contribute to society's efforts to provide authentic and factual journalistic media to educate her readers. She hopes to take her interest in ongoing research within the scientific field and explore ways to share it with others through this platform. In her spare time, she paints natural landscapes inspired by her travels and enjoy a few live concerts throughout the year. You can connect with her on Linkedin.