Staying cyber safe in an interconnected world

As part of Cyber Security Awareness Month, Canadian institutions are offering resources and organizing events to inform people of cyber threats and methods to mitigate them.
It is now a few weeks into October, and Cyber Security Awareness Month is in full swing. The internationally recognized campaign serves to raise awareness surrounding cyber security threats and practices that may mitigate these risks. In Canada, this year's theme is "Step up your cyber fitness."
Using data as of January 12, 2023, the Canadian Centre for Cyber Security—founded on October 1, 2018 as part of the Communications Security Establishment—completed a baseline assessment of cyber security risks towards Canadians. The assessment report revealed that the number of organized cybercrimes in Canada is expected to increase from 2023 to 2024, with increasing global interconnectivity providing cybercriminals the chances they need to exploit victims.

Notably, ransomware is listed as particularly damaging due to its wide reach and ability to disrupt Canadian organizations' most basic operations. The assessment report lists hospital care as an example, where financial disruptions can cause an array of issues, ranging from patients' delayed recovery to potentially higher risks of death. With the advent of Covid-19, phishing scams using public health messages and data as bait have also gained popularity. Successful phishing scams allows cybercriminals to infiltrate their victims' devices, acting as a starting point to launch their ransomware attacks.
Additionally, the assessment report reveals that "cybercrime safe havens" such as Russia and Iran are likely enabling cybercriminals to conduct attacks against the West, posing another obstacle to addressing cybercrime.
Canada's Get Cyber Safe campaign portal allows people to access various tips, blogs, and other resources about cybersecurity practices. Some topics include safeguarding personal accounts with passcodes and multi-factor authentication, protecting devices, and maintaining secure internet connections when using Wi-Fi and Bluetooth.

At U of T, many events have been organized for students, staff, and faculty who are interested in learning about staying safe in the cyberworld. U of T Information Security will be hosting events and offering resources to the university community, all revolving around its four strategic objectives: "Secure University digital transformation," "Trustworthy teaching, learning, and research," "Resiliency through effective risk management," and "Excellence through collaboration."
On October 12, students, staff, and faculty can register for the virtual panel, "Listening to researchers: Safeguarding data and intellectual property", to learn about how they can protect data obtained in their research as well as their intellectual property.
On October 17, an in-person meet and greet event will be held at the Bahen Centre on U of T's St. George campus. The event includes interactive activities that provide knowledge on safeguarding cybersecurity. Participants can network with other students, staff, and faculty, and meet U of T's Chief Information Security Officer, Isaac Straley.
There are other events organized by U of T Information Security and its partners but will not be available for students. More details can be found on their website.
In 2022, the Minister of National Defence, the Honourable Anita Anand, stated in her foreword to the Canadian Centre for Cyber Security's National Cyber Threat Assessment 2023-2024: "It will take a coordinated effort to make Canada one of the safest places to live and work online." While institutions work towards addressing cyber threats on a higher level, people may also keep themselves informed and ready to react to the ever-changing nature of cybercrime.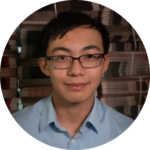 News Editor (Volume 49) | news@themedium.ca — Larry is a third-year student specializing in accounting. He finds writing to be an outstanding medium to spread messages, thus being a phenomenal way to express oneself and to have one's voice heard. Through his contributions to The Medium , Larry hopes that everyone can witness how enjoyable and invigorating writing can be, such that they too may be inspired to write out their stories. When he's not studying or writing, Larry will probably be learning Japanese or listening to music, all the while contemplating what life's next story would be.