Program Assistant Hiro Zhou on educational group fitness class for beginners 

"The goal is for you to learn exercise with good technique," he says of the recently launched Workout of the Day program.
When the Recreation, Wellness & Athletics Centre (RAWC) at the University of Toronto Mississauga (UTM) first opened after Covid-19 restrictions lifted, there were no fitness trainers to help rebuild the department's programming—most of them had been let go over the course of the pandemic. RAWC fitness program assistant, Hiro Zhou, came up with the Workout of the Day (WOD) program to address the gym's lack of trainers.
"Basically, I started offering [WODs] for clients who had finished their 3×30 personal training sessions to give new student trainers an opportunity to watch me train [a small group of] beginners and learn from practical experience," Zhou says. "Once I feel the new trainer is ready, I will allow them to co-train with me as I supervise them, [and] finally, when I believe they are good enough to lead, they will take over that class."
WOD is different from traditional group fitness classes, which are usually large. Instead, WOD is a small group training class. It currently has a maximum capacity of six participants and isn't designed to target any specific fitness goal like weight loss or muscle building. "What you do when you show up is usually whatever the trainer decides to give you," explains Zhou. "The goal is for you to learn that exercise with good technique, so you can add it to your own program when you're working out outside of the class."
Since classes are so small, trainers often go around to each participant, one by one, and help them with the exercises. "We teach them how to do more traditional exercises in the gym," says Zhou. "We teach them how to use dumbbells, barbells, cable machines, […] which is not something you can do in a large class of about twenty people."
The exercises usually change each week, focusing on both upper-body and lower-body fitness. WODs are free of charge for registered students, and there is no limit to the number of sessions they can attend throughout the semester. While WOD started off with just three sessions a week, it has now expanded to at least one session each day with most trainers leading at least one session throughout the week.
Zhou recommends that participants first complete their 3×30 personal training sessions before signing up for a WOD because it would work best as an extension of the 3×30 program. However, it is not a rule, and all students are welcome to sign up.
"RAWC WODs are also great opportunities to meet new people and connect with others around the same fitness level," Zhou concludes. "Having workout buddies and someone to hold you accountable is key to staying on track."
You can sign up for RAWC's WOD by visiting the RAWC website.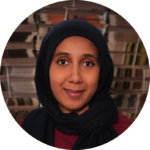 Associate Sports & Health Editor (Volume 49) — Radhia is a fourth-year student double majoring in Biology for Health Sciences and Professional Writing and Communication. She has three years of journalistic experience as a writer in Sri Lanka, and served as Associate Editor for Mindwaves (Volume 16). When she's not writing or studying for midterms, Radhia likes long walks, grey-skied rainy days, and reading children's books (her favourites are Neil Gaiman's Coraline and E.B. White's Charlotte's Web).