Olympic boxing coach Dewith Frazer: "Nobody can stop you from being successful"

On principles of professional integrity and personal discipline, the former fighter now runs a gym in Mississauga.
Located near the intersection of Dixie Road and Dundas Street East, a reputable boxing gym and fitness club welcomes members of all skill levels to enjoy its various equipment, training programs, and group workout classes. Dewith's Boxing Studio (DBS) is independently owned and operated by former Olympian Dewith Frazer.
Born in Jamaica, Frazer was raised by his grandmother: a good-mannered woman who prepared and sold family-farmed food products at the local market. As a social and inquisitive child, Frazer routinely accompanied his grandmother to work, where the bustle of the marketplace was under his constant observation.
"What I saw and heard everyday taught me about discipline," he says of his time spent speaking with vendors and listening to them bargain for their livelihoods. "These people were very successful, and, again, I had a grandma who was a [provident] person everybody loved."
Growing up in an environment of self-driven people who treated him as worthy of their attention gave Frazer the confidence to later structure a productive sports career, raise a family, and nurture a community at DBS. Making the transition from professional boxer to boxing coach, to wit, wasn't difficult for Frazer. "A lot of athletes don't know when to quit, but because of my fortune, I was successful within the Olympics, so I decided to make a change," he says. "It was a natural change."
Around 1976, a 12-year-old Frazer moved to Canada where his parents lived. One year after Frazer's arrival, his boxer friend took him to a boxing club. "I saw a kid in the ring sparring, and that captivated me." Frazer recalls. "He sucked."
Though Frazer had never boxed before, much less put on a glove, he bet his friend $10 that he could outperform the kid. Two weeks later, Frazer returned to the gym and won the bet. "I beat him up, and it was so easy and so fun," he says, speaking to the adrenaline rush that brought his life to a turning point.
Frazer realized his natural aptitude for boxing and chose it over almost everything else in his youth: "When my friends said 'let's go party,' 'let's go smoke weed,' 'let's go see some girls,' I went to train." He had the directed focus, mental toughness, and optimistic attitude required to not only fight, but win. In the Los Angeles 1984 Summer Olympic Games, Frazer fought for Jamaica and became a top eight quarter finalist.
Frazer considers himself privileged to have had the opportunity to participate in the Games, because there was a moment when it wasn't going to happen. According to rules and guidelines set out in the Olympic Charter, "a competitor who is a national of two or more countries at the same time may represent either one of them [but only if he hasn't] represented one country in the Olympic Games, in continental or regional games, or in world or regional championships."
While a Canadian citizen, Frazer became a national champion. His decision to represent Jamaica on the international stage was met with his association's disapproval. "I said to them, 'it's very simple, just release me, because you want to send somebody else.'" The main competitor in his weight class was the national coach's son.
"So, I didn't even challenge it, I said 'you know what, the Olympics are coming up, I want to do the Olympic games, I'm going to Jamaica,'" Frazer explains. "My son experienced the same kind of politics." Joshua Frazer is also a Canadian and Jamaican national boxing champion.
"But in boxing, we find different ways to succeed. When one door is closed, there's always a side door, or a back door, as they call it. A lot of people think there's only one way. Nobody can stop you from being successful, they can only slow down the process." DBS trainee boxer Pradeep Singh Nagra's fight for religious expression in the ring is a case in point.
In 1999, Frazer advocated for Singh Nagra, a Sikh-Ontarian, when he filed a complaint against the Canadian Amateur Boxing Association (CABA), now known as Boxing Canada, for prohibiting boxers from competing with beards at the National Championships. "The concept was that boxing was a gentlemen's sport, you needed to look clean, nice, and shaven," Frazer explains, "that is, in theory, a good concept, and I actually like it, but if your religion doesn't permit you to shave, I don't think you should be not permitted to box."
"When I decided to support this boxer, I was treated like an outsider in the boxing community. […] When Martin Luther King said, 'I want everyone to be equal,' that's what we're fighting for today. He said that years ago, and when he did, it wasn't popular. People are opposed to freedom like that. But obviously, logic and common sense will tell you that Martin Luther King was on the right path."
In 2000, the courts overturned CABA's disqualification of Singh Nagra. With the 2018 release of Tiger, Australian film director Alister Grierson adapted Singh Nagra's story for the screen. The film features Oscar-nominee Mickey Rourke playing the very loosely inspired role of Frazer as the boxer's real-life coach.
A master-level Olympic and national coach, Frazer has travelled to several countries over the years—Australia, Hungary, India, and Japan, to name but a few. He's grateful for the opportunity to attend the Olympics as, in his words, it's "the gathering of the world's best and gives you an appreciation of other cultures."
"I've been privileged to travel the world, because that has influenced my views of different people […] I can understand why people act the way they do," he says. "In my gym, music with swearing is not allowed, and there are a lot of signs around about respecting each other, because nobody's better than anyone else here."
DBS is a positive environment where those who wish to box competitively, professionally, or recreationally can feel safe and encouraged. "I think we need more communities like this," says Frazer.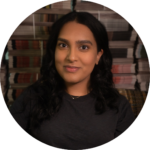 Sports & Health Editor (Volume 49)| sports@themedium.ca — Alisa is a third-year student completing a major in Professional Writing and Communication with a double minor in Political Science and Cinema Studies. She served as Editor-in-Chief of Mindwaves Volume 15 and Compass Volume 9 and was a recipient of the Harold Sonny Ladoo Book Prize for Creative Writing at UTM. Her personal essay, "In Pieces," appears in the summer 2020 issue of The Puritan. In 2022, she published her first poetry chapbook, Post-Funeral Dance, with Anstruther Press and wrote for The Newcomer as a journalist. When Alisa isn't writing, she's probably reading historical nonfiction, ugly-crying over a sad K-drama, or dreaming of places far, far away.