Gym time with Abdul Oladimeji
When second-year undergraduate Abdulsalam (Abdul) Oladimeji isn't busy studying for his biology and chemistry majors, you can find him pumping iron at the Recreation, Athletics & Wellness Centre (RAWC) at the University of Toronto Mississauga (UTM).
"The RAWC has been a great place for me to meet individuals who are driven by many of the same aspirations that I have," Oladimeji says. "Just constantly being in an environment that promotes hard work and effort, adds to my interest in weightlifting [and bodybuilding]." Weightlifting involves methodically lifting fitness equipment, like cast-iron dumbbells or barbells, to strengthen the heart and muscles.
"I love that [the RAWC's] easily accessible and always kept clean. Rarely is there a case where I can't find equipment, as they're always left in the same place," he adds.
According to Oladimeji, staying focused and living a healthier, more fulfilling life depends largely upon exercise, diet, academics, and religion. The biggest motivation behind Oladimeji's aspirations to healthy living is his mother.
"My mom is really big on fitness and wellness, going out of her way to make nutritious food meticulously," he shares. "She rarely takes a day off from the gym and constantly encourages me to stay fit and healthy alongside my studies." Following her lead, Oladimeji played varsity football and track in high school.
While he doesn't currently participate in any UTM sports, Oladimeji is quite active in the school's fitness community—so much so that he now offers individualized training programs online specifically for UTM students "who want to elevate their physical health and wellness." As an example, Oladimeji incorporates dietary suggestions into his fitness plan for someone who wants to lose weight. "Content creation also helps me stay on track with what I eat, how I work out, etcetera," he says.
Oladimeji understands the mental and physical demands of university life, and the need to have a viable outlet for stress relief and personal care. His principal piece of advice for students is that guidance is vital to success. "The captain of a ship knows exactly how to get to his destination despite it never being visible for almost 99 per cent of his voyage, because he has a map to get him there," Oladimeji explains.
"Though fitness and sailing may seem completely different, they're similar in that they both require a map or guide to get to their goals. Follow a structured routine when at the gym, one that you refer to periodically to record your progress. Working with a personal trainer that can lead you towards a workout regimen makes it easier."
Oladimeji wishes to inspire others to "build their dream bodies or feel healthier." He enjoys sharing tips on how to best maximize time spent in the gym and welcomes prospective clients to visit his website to learn more about his services.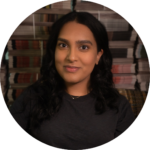 Sports & Health Editor (Volume 49)| sports@themedium.ca — Alisa is a third-year student completing a major in Professional Writing and Communication with a double minor in Political Science and Cinema Studies. She served as Editor-in-Chief of Mindwaves Volume 15 and Compass Volume 9 and was a recipient of the Harold Sonny Ladoo Book Prize for Creative Writing at UTM. Her personal essay, "In Pieces," appears in the summer 2020 issue of The Puritan. In 2022, she published her first poetry chapbook, Post-Funeral Dance, with Anstruther Press and wrote for The Newcomer as a journalist. When Alisa isn't writing, she's probably reading historical nonfiction, ugly-crying over a sad K-drama, or dreaming of places far, far away.