Quebec's nursing order campaigns against "sexy nurse" costumes
The Ordre des infirmières et infirmiers du Québec (OIIC) has launched what it calls a "shock campaign" against the trend of "sexy nurse" costumes. In a video posted to the organization's YouTube channel, the OIIC criticized sexualized nurse costumes, saying they "devalue" nurses and suggested viewers to wear "real" nurse costumes instead. "The profession has evolved, but the stereotypes persist," said president of the OIIC, Luc Mathieu, in a press release on October 24, 2022. "Nurses are scientific professionals, and their expertise should be known and valued. It's time that perceptions change."
Horses wear Halloween costumes at Winnipeg riding school's horse show
Horses at Meadow Green Stables in Winnipeg got into the Halloween spirit on October 23, 2022 by wearing costumes at the riding school's bi-annual horse show, a tradition dating to 2001. The event featured around 30 costumed horses, with outfits including the Headless Horseman, Harry Potter, and a unicorn. Meadow Green Stables president, Laurie Chia, explains in an interview with Global News that the costumes help children connect with the horses. "Both in the mental health arena, and also in the physical arena, the miracles that I've seen over the years with horses healing these children has been amazing," says Chia.
Saskatchewan man prepares $25,000 Halloween home display
A Saskatoon man has become a local celebrity for his extensive Halloween home decorations. On his house's front yard, Patrick Stuike introduced "Mayhem on Matheson," an interactive Halloween labyrinth containing cobwebs, mobile decorations, and costumed helpers waiting to spook anybody who dares enter. Stuike explained in a CTV interview that he started experimenting with Halloween displays after handing out candy to children turned stale. Throughout the years, he increased the scale of his displays. Stuike anticipates that over 1,000 people will experience his "Mayhem on Matheson" this year.
Mother of Jeffrey Dahmer victim speaks out against Dahmer Halloween costumes
Shirley Hughes, the mother of one of serial killer Jeffrey Dahmer's victims, is criticizing people who plan to dress up as the murderer for Halloween. Hughes, whose son was killed by Dahmer 31 years ago, says the costumes exploit victims and traumatize their families. The costume's popularity rose after Netflix released the crime drama series Monster: The Jeffrey Dahmer Story (2022), which details Dahmer's killings. In response to criticism from Hughes and others, several physical and online stores, including eBay, have banned Dahmer costumes. However, sales of related items, including blonde wigs and wire-rimmed glasses resembling Dahmer's, remain high.
Graphic Halloween decoration prompts visit from police
A Montréal man got a visit from police this October after hanging a mannequin in his front yard. Mathew Farah, who thought the decoration was in the spirit of the season, was told by police to make it clear the decoration is staged. In response to the request, Farah has since added a sign on a nearby tree, reading "Fake :)." Regardless, the display has drawn complaints from neighbours, several commenting that the arrangement is in "bad taste." Others have raised the concern that the display could be mistaken for a real person, prompting someone to call emergency services.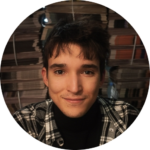 Associate News Editor (Volume 49) — Mihail graduated from UTM in April 2022 with majors in Professional Writing and Communications Technologies. He's an aspiring journalist who loves researching, interviewing, and getting to the bottom of a killer story. He started working as an Associate News Editor with The Medium in October 2022 and hopes to share many exciting stories with readers. In his free time, you can find Mihail avoiding suspicious cliffs along the Bruce Trail, pretending to read literary classics, or losing at fighting games.