Is the holiday season always merry?

Shopping for presents and the never-ending loop of Mariah Carey can be very draining.
When it comes to the holiday season things aren't always "jolly good." While I love to spend time with family, watch The Polar Express, free my mind from thoughts of school assignments, and cuddle up on the couch with a cup of hot chocolate and my favourite book, there are a few aspects of the holiday season that I find a little less compelling.
To start, I don't like holiday shopping. Although I love to see the reactions of my friends and family when they unwrap a gift, the cons of scavenging through stores to find the perfect gifts outweigh the pros. As someone who has worked in retail, I can say that my perspective on holiday shopping has forever changed based on customer demands. Let's just say people can get seriously impolite after waiting in long line-ups and squeezing through crowds just to find out that what they came for is sold out. I get it. Anyone would be frustrated. But the employee is never to blame. Where is the holiday spirit in yelling at a seasonal employee?
While I don't work in retail any longer, holiday shopping doesn't become easier on the other side of the register. Every year, I try to get all my shopping complete before Christmas Eve, but I feel like everyone has the same plans. At every store, you dive into a jungle of carts, carolers, and Karens. For this reason, I am sticking to online shopping this year, even though I will miss out on the taste of mall pretzels. But, while I would like to support small businesses as opposed to multinational companies like Amazon, this comes with downfalls like longer wait times and expedited shipping fees. Holiday shopping is a never-ending stress cycle.
There is another aspect of the holiday season that leaves me conflicted—Christmas music. Although Mariah Carey's "All I Want for Christmas Is You" never fails to pump me up and I always lip sync into a hairbrush microphone, it is just one of the many songs within the repetitive repertoire of the holiday season. Certain songs, like Michael Bublé's "Santa Baby" and Jimmy Boyd's "I Saw Mommy Kissing Santa Claus" are some of the songs that I immediately skip whenever they come on the radio, mostly for their questionable lyrics that are far from cheerful. But even when celebrities try to spruce up the season by releasing albums with "new" Christmas tunes, like Sia's "Everything Is Christmas" and Ariana Grande's "Christmas Kisses," these songs cannot compare to their year-round hits.
Even though holiday shopping and music aren't always "merry," there is a lot to look forward to as the holidays comes to town. Gift giving, the pink nose and cheeks you get after hiking in the snow, building gingerbread houses, and time indoors with family, friends, and pets are some of the holiday moments that I am most thankful for. While I do have my Grinch-inspired holiday hatreds, the value of creating positive holiday memories through my connection to loved ones is what is most important.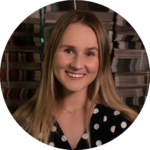 Arts & Entertainment Editor (Volume 49) | arts@themedium.ca — Julia graduated in 2022 with a major in English, and a Professional Writing and Communications and Drama double minor. She previously worked with The Medium as Theatre Erindale Correspondent for Volume 48. As the A&E Editor this year, Julia cannot wait to explore the wondrous world of arts and spark creative conversations amongst student writers. If she's not writing, working, or spending too much money on overpriced iced coffees, you can find Julia singing tunes with her guitar, bingeing Netflix shows, or going on nature walks with her doggo Benji. You can connect with Julia on LinkedIn or Instagram.