Homes: A Refugee Story carries the weight of war
Written and published in 2018 by emerging author Winnie Yeung, Homes: A Refugee Story became successful after winning Alberta Book Publisher Non-Fiction Book of the Year one year later. In recent weeks, the novel finds relevance once more with its connection to stories of war refugees at the forefront of Canadian news as Canada welcomes Afghans fleeing Taliban rule.
The novel tells the story of Abu Bakr al Rabeeah, who dictated his life to Yeung, and his family as they fled their home country of Iran in 2010 only to find themselves in Syria months before the beginning of the Syrian civil war. Later, al Rabeeah and his family left Syria to find safety as war refugees in Canada.
When the al Rabeeah family arrived in Edmonton, where they still live, al Rabeeah was in his early teens and struggled to adapt in a new world free of violence, carrying the guilt he felt in leaving his country behind. This inner conflict, described through the eyes of al Rabeeah as a child, is a prominent theme through the book that allows readers to reflect on the soulful connections a person has to their homeland.
The most striking aspect of the story is the eye-opening desensitization of violence described through al Rebeeah's childhood. One of the novel's first scenes depict al Rebeeah with other children of his Syrian neighbourhood as they wash the street of blood following a car bombing at the local Mosque.
Other stories within the novel continue along the same lines of a terrifying reality. A particularly difficult scene to read was when the al Rabeeah family hid quietly in their Syrian home as they waited for the sound of rifles to cease, and after, al Rabeeah and his cousins picked up the bullet casings as a game. Growing up, the children in Syria only knew violence and didn't think much of it; shortly after al Rabeeah's thirteenth birthday, he found a man's jaw in his family's garden after another bombing, buried it behind a tree, then continued with his day. The juxtaposition of gruesome violence and children as they play in the street reminds readers of the innocence that is at stake in reckless wars.
First-hand accounts told by war refugees are important pieces of literature as they demonstrate the experiences and needs of people who leave their homes in hopes of finding another. Homes: A Refugee Story is a beautifully written book and is worth picking up to better understand the circumstances and struggles of the refugees claiming asylum in Canada and the stories they bring with them.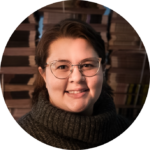 Associate Features Editor (Volume 48 & 49) — A recent graduate from UTM, Dalainey is currently working on completing her post-graduate studies in Professional Writing in Ottawa. She previously served as Staff Writer for The Medium's 47th Volume and as Associate Features Editor for Volume 48. Through her passion for languages, Dal hopes to create a fun and inviting atmosphere for readers through her contributions to the paper. When she isn't working, Dal focuses on developing digital art and writing her first novel. You can connect with Dal on her Instagram or LinkedIn.