Hayden's March Mix

For different moods throughout the month, this playlist comes with a bit of everything.
My music tastes changed as I grew up, which I did not really notice until I was selecting music for this month's playlist. I used to love listening to club and house music for their strong and catchy beats. Over time, I shifted to more relaxing tunes. For the past year or two, I have been listening to a lot of Mandopop and Cantopop, Jay Chou and Eason Chan at first, but I expanded the variety of artists I listen to. The style of Mandopop and Cantopop is mainly romantic, so I find them pleasant and relaxing to listen and sing to.
I included a few songs in English that I enjoy singing along to as well, like Ed Sheeran and Adele, as I listened to them a lot in the past. Additionally, I chose two opening songs from Hajime no Ippo, which is a boxing anime that I loved. The soundtrack hypes me up and makes me want to throw a few punches like the main character Ippo so it helps get me moving when I feel a bit lazy. I hope you enjoy this month's playlist.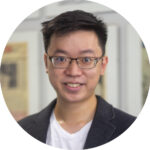 Photos Editor (Volume 48) | photos@themedium.ca —
Hayden is a third year student double majoring in Computer Science and Economics. He previously served as Assistant Photo Editor for Volume 47. He enjoys table tennis, tennis, going on walks around campus, and taking photographs of wildlife. He is also committed to learning and applying different computer science topics. You can connect with Hayden on his website, Instagram, or LinkedIn. You'll often catch Hayden in action at the table tennis room at the RAWC!