Eating your way through stories and fairy tales

This summer, three-star-Michelin star restaurant, A Tale to Share, will be offering an extravagant full-course meal to UTM students at an affordable price.
For many, eating food is comforting, destressing, and fulfilling. For this reason, UTM Dining will be hosting a Summer Solstice Celebration Party at the Rotunda, Kaneff Centre, in June. This event will feature the cuisine of the three-star-Michelin restaurant, A Tale to Share. The restaurant, first established at the height of the Great Recession in 2008 when many people yearned to escape the harsh reality of poverty, has garnered a reputation for offering fusion delicacies to its customers—with a twist.
In an interview with The Medium, Ayaka Tsukino, the owner and chef at A Tale to Share, explains that her restaurant offers six course meals inspired by reimagined tales and stories. Notable themes include Snow Woman and the Seven Dwarven Cats, Hairy Potter and the Primate's Stone, Three Little Porkchops, and Tsukino's pride and joy: The Last Supper featuring Akazukin.
"When I was young, I lived in a small rural town in Japan. My late grandma loved weaving baskets, so I always carried one of the baskets she gave me whenever I brought treats. I used to wear red and pink hoodies everywhere I went, so after some time, my friends just gave me the nickname of 'Akazukin,' Japanese for 'Little Red Riding Hood,'" said Tsukino. "When I needed to come up with some dishes, I thought: 'How about one themed after Red?'"
At the summer solstice party, Tsukino will be offering The Last Supper featuring Akazukin—six delectable courses of Japanese fusion cuisine. The appetizer will be "The Little Girl's Tale," containing paw-shaped, strawberry-flavoured rice cakes served in a flowered basket. Afterwards, she will serve "Warmth," a mild miso soup containing soft tofu, seaweed, and bamboo fungus, resembling the warmth found when residing in the world's bottomless pit. Next comes a sashimi platter titled "I'm Still Hungry." The platter will predominantly contain salmon slices, fatty tuna, and surf clam. The sashimi will be served on a bed of sliced radishes and alongside decorative chocolate shaped like reading glasses.
The main course will be "Red's Predicament." The dish includes roasted chicken and eel, served alongside cranberry jam and pickled plum, in a basket of flowers. Finally comes "Indulgence," a bowl of rice served in green tea and chicken broth. Bones may or may not be present in the soup. "Is this a comedy?" is the name of the final course and dessert—a fluffy, half-eaten slice of Japanese cheesecake decorated with a hood and a tail of cherry blossom petals and finished with splattered pomegranate glaze.
"When I designed this meal, I wanted my guests to relive one of the fairy tales they've likely heard when they were young," said Tsukino. "And of course, I'd like the world to recognize how amazing furry animals are, especially those with fluffy tails." A Tale to Share will not be responsible for any traumatic memories triggered by The Last Supper featuring Akazukin, and all guests must sign a waiver assuming all risks of reinduced trauma. Interested students can register for the party starting May 2023, and the slated fee per person is $314.16.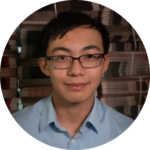 News Editor (Volume 49) | news@themedium.ca — Larry is a third-year student specializing in accounting. He finds writing to be an outstanding medium to spread messages, thus being a phenomenal way to express oneself and to have one's voice heard. Through his contributions to The Medium , Larry hopes that everyone can witness how enjoyable and invigorating writing can be, such that they too may be inspired to write out their stories. When he's not studying or writing, Larry will probably be learning Japanese or listening to music, all the while contemplating what life's next story would be.