Stressed out? Ease your anxiety with painful bee stings!

The Health and Counselling Centre will be constructing a new therapy centre that use bees to inject an anxiety-reducing chemical into participants.
Last winter's university census revealed that rates of depression and anxiety disorders among University of Toronto Mississauga (UTM) students have soared higher than the Empire State Building. Students at UTM were approximately three times more likely to receive diagnoses for neurotic disorders than students from the University of Guelph, and a whopping eight times more likely than those from Brock University. The Medium reached out to various UTM students to discuss their experiences with mental illnesses on campus.
Fourth-year Chemistry student, Maya Adler explained: "It's been a difficult couple of years for everyone. I think students could really benefit from UTM hiring a few more competent counsellors and psychiatrists at the Health and Counselling Centre. […] I haven't been able to get an appointment for months, and I'm really struggling."
Another student, Rashad Sharma, a third-year Kinesiology student reported: "It's really hard to see my friends struggling with mental health issues because of our heavy workloads, I think it would be super helpful to mitigate grade reductions for late assignments in all departments."
The university administration has certainly not been silent on the issue, and on March 13, 2023, the Health and Counselling Centre revealed its plans to install a brand new anxiety therapy centre in the William G. Davis Building. The installation process is simple, and the centre will be ready by late April.
"The technology is new, but it's certainly promising," says Dr. Beatrix McBee, the lead medical doctor overseeing the upcoming clinical therapy trials. "You see, a key study has shown that when injected with a controlled amount of a melittin, a basic peptide, anxious patients show improvements in their symptoms in just 15 minutes." Unfortunately, pure melittin is extremely expensive, but with the help of Dr. McBee, UTM has found a much more affordable source of melittin—honeybees! Melittin makes up about half of the venom found in a single honeybee sting and is the compound most largely associated with its signature painful and itchy sensation.
UTM students were sent a mass email on March 14, 2023, the email read: "UTM students, we are so excited to announce the implementation of a state-of-the-art mental health treatment on our very own campus! Let us introduce you to: 'The Hive.'" According to an inside source, The Hive is a closed-off space that will soon be home to more than 300,000 Ontario honeybees. Its white walls, ceiling, and floor will be slathered with raw honey.
Therapeutic sessions will generally be held in groups of 20 students, and the sessions will run for 15 minutes each. After students enter The Hive, all doors will close, and a series of shocks will pulse through the walls to irritate the bees. Then, the fun will really begin. Each student can expect to receive anywhere from 25 to 4,000 stings per session. Generally, the faster a student's heartbeat is, the more stings they will receive—bees can sense fear. Once the 15-minute session has begun, students are not permitted to leave until treatment is over, so as not to let the bees escape. Students are required to sign a waiver, affirming their voluntary assumption of risks relating to the treatment. The university will not be responsible for any injuries or death.
Dr. McBee is now accepting applicants for trials beginning in early May. She will accept applications via Gmail, Hotmail, Coldmail, LinkedIn, Facebook, TikTok, and carrier Pigeon. See you there UTM!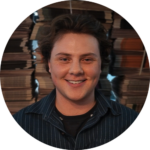 Copy Editor (Volume 49) — River is completing a specialist degree in Political Science with special interests in social justice and law. He is currently working as a copy editor at The Medium. In his spare time, River can usually be found noodling on his guitar, obsessively replaying "Red Dead Redemption 2," dipping into local thrift stores, and flipping through worn paperback fiction instead of doing his course readings.