A Timeless Message in La Dolce Vita

While the film may seem to lack purpose, a closer look at Steiner's character reveals a universal reality.
Spoiler warning: this article discusses scenes from La Dolce Vita (1960).
La Dolce Vita (1960), a neorealist Italian film by Federico Fellini, delivers a story that develops over the span of one week as it unhurriedly follows jaded gossip columnist and charming drifter Marcello Rubini (Marcello Mastroianni). The story is set during 1950s Rome—a glamourous postwar society steeped in fun-loving women, celebrity-hounding photographers, and ghost-hunting aristocrats.
Many narrative lines run through this comedy-drama, none of which end with, as UTM professor Teresa Lobalsamo says, "neatly composed solutions." Marcello's mistress, Maddalena (Anouk Aimée), proposes to him but then abandons their conversation. Visiting actress Sylvia Rank (Anita Ekberg) enters the film as undetectably as she exits it. Marcello's father arrives in Rome only to leave the very next morning.
Though the film frequently lapses like a flimsy train of underdeveloped thought, the story is not "merely a vehicle for sensationalism and a sometimes-spectacular demonstration of Fellini's directorial talents" as early critic R.M. Franchi argues.
Who then, in this overburdened, multi-perspective film about nothing, is the true main character? To answer this, we can look at the character who suffers the emptiness of tumultuously extravagant living: Steiner (Alain Cuny), Marcello's friend, who murders his two children and then kills himself.
In a two-shot scene, Marcello is dazzled by Steiner's family, books, and friends during a party at his house. "Your house is a real refuge," Marcello says, "[…] maybe I'm losing everything." Marcello admits his lack of ambition and unwittingly reveals his sad inner world. Steiner then invites Marcello to his children's bedroom, where he guides the camera throughout the setting as he walks over to his sleeping kids to give each one of them a kiss. In tracking his movement, Steiner leads viewers to a large window. He turns to face the camera and begins to speak in a medium close-up shot as if in conversation with us.
It is within this space, surrounded by the heavy darkness of night, that we can sniff out the prospective hellfire beyond the "outer shell" that Marcello sees and admires. Steiner says, "We should learn […] to live outside of time, detached."
The sweet life is apparently, at its best, a utopic dystopia. Late-night parties, poet friends, beautiful wives, priceless paintings, and high-rise luxury condos only go so far as to take the edge off the all-pervasive inherent human suffering that Steiner is so highly conscious of.
This is not some abstract, uncirculated message pulled out of nowhere. Steiner's monologue and its picturization directly parallel Matthew Arnold's 1867 poem "Dover Beach," a dramatic monologue that dissents from the traditional use of language and speaks to a cultural change within the history of western poetry through the loss of a belief system.
Arnold describes a two-party moment at the beginning of the poem as the speaker (Steiner) invites a silent listener (the viewer) to join him at a window where they watch the waves of an ocean come in and out. Together they are warned that even the most comfortable life cannot be trusted because the "ebb and flow of human misery" means change can happen at any time. So, the poem's speaker decides that honesty and seeking support from loved ones are the only alternatives to living in a world where there is no certainty to cling to. With this message, Steiner is the central character who will always emotionally and intellectually connect us to a classic film about (seemingly) nothing.
"When a phone call can announce the end of the world […] we should learn to love each other so much," echoes Steiner, timelessly.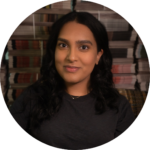 Sports & Health Editor (Volume 49)| sports@themedium.ca — Alisa is a third-year student completing a major in Professional Writing and Communication with a double minor in Political Science and Cinema Studies. She served as Editor-in-Chief of Mindwaves Volume 15 and Compass Volume 9 and was a recipient of the Harold Sonny Ladoo Book Prize for Creative Writing at UTM. Her personal essay, "In Pieces," appears in the summer 2020 issue of The Puritan. In 2022, she published her first poetry chapbook, Post-Funeral Dance, with Anstruther Press and wrote for The Newcomer as a journalist. When Alisa isn't writing, she's probably reading historical nonfiction, ugly-crying over a sad K-drama, or dreaming of places far, far away.