A sneak peek of Maschere Duemondi's Le Vedove Scaltre

Celebrating the upcoming play and Italian culture with cast members Elisa Schembre and Jennifer Hughes.
Within the Department of Language Studies at UTM, the Italian programs stand out for their artful approaches to Italian language and culture. As they learn the essentials of communication, writing, and translation, the upper-year students can act in an all-Italian production. Through theatrical studies, students are encouraged to practice their speaking, reading, and performing skills while diving into Italian history and traditions.
In 1992, the theatre group "Maschere Duemondi" was formed at UTM. The name translates to "Two-World Players" and aims to represent the dualities that exist between Canadian and Italian cultures. As a part of the course Italian Theatre: Text and Performance (ITA413Y), upper-year students can work with the group and perform a traditional piece of Italian theatre. In the past, the shows they performed were comedies set in Canada to demonstrate the many hardships that immigrants continue to face within a "new world."
Fourth-year students Elisa Schembre and Jennifer Hughes share some insights as cast members in their upcoming play, Le Vedove Scaltre, directed by Teresa Lobalsamo.
"Le Vedove Scaltre roughly translates to The Artful Widows," says Schembre. "It's about
three women who are competing for the love of one man. There are a bunch of twists and turns and different stories. It is also very funny—definitely a comedy."
Additionally, the female characters in the play possess an agency that is empowering and relatable.
Hughes explained that the play is an adaptation of La Vedova Scaltra by Carlo Goldoni. "[Goldoni's] title is singular, so it was about one widow [who] was looking to remarry. We originally thought about staging that play, but when we started table reads, we came to realize that there were so many opportunities for female characters. That is where the idea came to switch the play around a little bit," says Hughes. "In Carlo Goldoni's play, the one widow held a lot of feminine power. We wanted to keep these feminist ideas in our adaptation."
Hughes also mentions the play's efforts to display cultural clashes in a respectful yet humorous manner.
"The play takes place in Venice," she says. "The three women come from different countries to meet their love interest in Italy. One is from England, the other from France, and the last one is from another part of Italy. Everyone is just trying to find love. Think about it almost like The Bachelor."
The play is entirely spoken in Italian, but audiences will have English subtitles present during online streaming. While it was challenging for Schembre and Hughes to memorize and perfect the delivery of their Italian lines, they are both grateful for the rehearsal and performance process.
"In first year, I took Italian just because my family is Italian, and I wanted to speak more with them," says Schembre. "But being involved in the Italian specialist [program] and in the play has opened up so many more career opportunities. By being immersed in the language of the play for such a long period of time, [the cast members and I] find ourselves reciting lines of the play in our everyday conversations. It has definitely made us more comfortable with the language."
Hughes, on the other hand, comes from a non-Italian family. She discusses how the play has taught her not only about the language but also about Italian culture.
"I don't have any Italian family background," says Hughes. "But there is a pedagogical value that comes with being in the play. The vocabulary just gets stuck in your mind through memorization and repetition. We also kept the Renaissance values from the original play."
Le Vedove Scaltre will be available to stream on April 20, 2022. Keep an eye out for more updates on Maschere Duemondi's Instagram page @utmvedovescaltre. You do not want to miss this conflict-filled Italian comedy.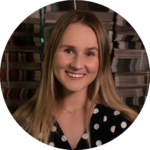 Arts & Entertainment Editor (Volume 49) | arts@themedium.ca — Julia graduated in 2022 with a major in English, and a Professional Writing and Communications and Drama double minor. She previously worked with The Medium as Theatre Erindale Correspondent for Volume 48. As the A&E Editor this year, Julia cannot wait to explore the wondrous world of arts and spark creative conversations amongst student writers. If she's not writing, working, or spending too much money on overpriced iced coffees, you can find Julia singing tunes with her guitar, bingeing Netflix shows, or going on nature walks with her doggo Benji. You can connect with Julia on LinkedIn or Instagram.