Pitch with a Twist 2022: A pitch competition by women, for women

This event celebrates great ideas from diverse voices that break down barriers.
As part of U of T's Entrepreneurship Week, Pitch with a Twist returned for its third annual pitch competition. "Your idea has value, it's important, you belong in the space of entrepreneurship," says Kayla Sousa, the programs lead at ICUBE, the University of Toronto Mississauga's (UTM) in-house career incubator, in an interview with The Medium.
U of T's Entrepreneurship Week highlights its entrepreneurial community and campus accelerators that bring innovation to the global economy and health. In partnership with UTM's Institute of Communication, Culture, Information, and Technology; the Equity, Diversity, and Inclusion Office; and the International Education Centre, Pitch with a Twist commemorates International Women's Day.
In this competition, female entrepreneurs in various sectors are invited to pitch their businesses for cash prizes and in-kind support. It is open to any female U of T student or alumni, any women connected to ICUBE, as well as any of U of T's other eleven campus accelerators. With a panel of women-identifying judges, Pitch with a Twist is divided into two categories: early-stage, for businesses in the pre-launch phase, and later-stage, for businesses who currently have a product or service in the market.
"We, at ICUBE, want women to know that there is a space for them—an entity for them to go to with a great idea no matter which field," shares Sousa. "We want to encourage them to see entrepreneurship as a path and know the support for them exists." The event highlights female representation and visibility in entrepreneurship and showcases ICUBE's support to female entrepreneurs through its intellectual and financial guidance.
The early-stage judges were Tilly Gray, a partner from Canadian law firm Cassels; Veronica Vasquez, the International Education Centre director at UTM; and Diana Al Dajani, the founder and CEO of Arabic literacy teaching and learning centre Edutechnoz. For the later-stage pitches, the judges were Emmanuelle Coppinger, the CEO of Front Row Ventures; Katie Salem, the executive director of York Angels; and Donna Heslin, manager at the Mississauga Business Entrepreneur Centre.
"We think these events are critical in supporting marginalized entrepreneurs," adds Sousa, reflecting on the importance of the all-female panel as a form of representation. "Having them see themselves reflected in these positions [offers] insight and advice."
In order to apply, all pitches had to align with the United Nation's Sustainable Development Goals. These goals serve as a blueprint to improve a sustainable future and address global challenges such as poverty, inequality, and climate change. The five finalists for the early-stage pitches aligned with these goals, carrying ideas such as the improvement of healthcare, education, cosmetics, and animal care. "As a fully women-led team with a focus on building a better tomorrow and addressing a number of UN Sustainable Development Goals, Pitch with a Twist was a perfect fit for us," states Kasey Dunn, one of the competitors and co-founder of HOPE Pet Foods, in an interview with The Medium.
This year's panel consisted of Justine Abigail Yu, the founder of Living Hyphen; Gina El Kattan, the co-founder of Nuba; and Michelle Johnston, the specialist and founder of Workplace Wellness. Alongside Sousa, the panel was co-moderated by Marie-Philippe Généreux, a third-year student in the Digital Enterprise Management program, and Ashley Mutasa, a fourth-year Neuroscience specialist minoring in Statistics and Biology.
The winners for the early and later stage pitches were determined by the judges, the panelists, and the audience at the end of the event. The first-place winner for the early-stage pitches was HDAX Therapeutics, a business focused on the development of targeted therapeutics for the safe and efficacious treatment of brain diseases. As for the later-stage pitches, the winner was HOPE Pet Foods, a business that uses science and kindness to make radically better, more sustainable pet food with alternative proteins. They each received a $3,000 cash prize, a startup package worth $5,000 with the legal firm, Cassels, and $700 worth of services from the accounting firm, Optinum.
"We are bootstrapping, so any cash prize is great," says Sofia Bonilla, the co-founder and CEO of HOPE Pet Foods. "But winning first place and the People's Choice award means so much more to us. Our all-women team is being recognized for our mission of creating better, sustainable pet food products and that is hugely validating and motivating!"
Pitch with a Twist is an event held by women, for women, but the representation does not stop there. On International Women's Day, and every other day, women should know that their gender does not limit their capacity to succeed. No matter who you are, if you have an idea, bring it to life by submitting your application to ICUBE's Ideation Lab before May 2, 2022.
For a full list of winners, please visit ICUBE's Pitch with a Twist website.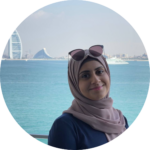 Staff Writer (Volume 48) — Hamna is in her third year at UTM, specializing in Digital Enterprise Management. The only thing she loves more than her mug collection is writing. She writes for The Medium because she loves to talk, but more importantly because she feels that one of the most beautiful elements of humanity is discourse. In Hamna's eyes there's too much going on in the world for us to stay ignorant and she just wants to do her part in bringing some of the matters, big or small,  to light and encourage others to share their perspectives.  In her free time she likes drinking chai, obsessing over her bookshelf, and reading complex technical books to her nieces and nephews.