Will the sanctions on Russia de-escalate the war?

Dr. Richard Day discusses the implication of sanctions and the prospects of a modern-day depression.
Amidst a humanitarian crisis in Ukraine, economically influential countries such as the United States and Canada have instilled sanctions, or economic penalties, on Russia as a response to President Vladimir Putin's vicious military attacks. Sanctions are imposed on countries for purposes relating to economic instability, threats of war, and humanitarian crises. In the current Russo-Ukrainian War, countries around the world have sanctioned Russia as a de-escalation tactic. Yet many are left to wonder: will these sanctions successfully diminish tensions across Europe?
"While I can think of some instances where sanctions have worked, I can think many others where they only heightened tensions," says Dr. Richard Day, an associate professor in the Department of Political Science at the University of Toronto Mississauga. He has been teaching for more than 50 years on topics of economic history and theory, and his research has primarily focused on early Russian economists—principally Soviet economists.
Currently, there are three types of sanctions on Russia: a freeze on assets, financial prohibitions, and restrictions on exports and imports on the country. These restrictions prohibit a list of trades between Canada and Russia, including any financial or goods transactions and the dealing of any property. While they include governmental and industry exchanges, these sanctions also impose restrictions to individual Russians living in and out of the country. Additionally, they outline the list of Russian individuals who are inadmissible into Canada under the Immigration and Refugee Protection Act. Canadians are also prohibited to partake in any financial or property transactions with individuals listed under the sanctions.
"I don't think anyone in Europe is really clear on how bad [things] might become," explains Dr. Day while reflecting on the prospects of a modern-day depression facing the continent. "Europe heavily relies on Russia for things like gas. A winter without gas might sound bearable for someone living closer to the equator, but it's a different story for people in Europe who live through harsh winters."
Russia is certainly not the only country sanctioned by Canada. According to the Government of Canada website, they have sanctioned a total of 21 countries in an effort to "prevent the concealment and transfer of funds or assets used to finance terrorism." These include countries such as Belarus, the People's Republic of China, and Iran. Belarus, for example, was sanctioned due to their close affiliation with Russia's violence in Ukraine.
Amid the Russo-Ukrainian crisis, the Society for Worldwide Interbank Financial Telecommunication (SWIFT), a global provider in financial messaging, have also made efforts to end the war. They started disconnecting their services from several Russian-based financial institutions, along with some Belarusian entities. This decision was made in consultation with the European Union, the United Kingdom, the United States, and Canada.
"It's not a small thing to start taking banks off of SWIFT," said Daniel Glaser, a former Assistant Secretary for the U.S. Treasury Department, in an interview with The New Yorker. "The fact that they're doing it at all […] demonstrates the seriousness of this effort. It's another signal to the international financial community that you've got to be really serious with any Russian bank."
Many countries have followed suit in sanctioning Russia, including Switzerland who, up to this point, has not broken their traditional position of neutrality in times of crisis. This led President Putin to name Switzerland as an unfriendly country, being added to a list of approximately 50 other countries who have taken "unfriendly" actions against the nation.
According to Dr. Day, the prospect of Russia slowing down sales and productions of their own exports because of sanctions will be harmful to the global economy. "If Russia decides to halt their sales on oil, we can see the price of oil double to $300 per barrel," he explains.
Russia's hopes of a quick invasion have been squashed by the fierce resistance of the Ukrainian military and people, who have been promised sovereignty after years of fighting. While sanctions against the country may have helped slow down the crisis, they have led to thousands of Russian citizens struggling in their home countries, many feeling left astray by their government.
Immediately following the notice of worldwide sanctions against Russia, its citizens have seen a dramatic change in their way of life. Namely, the Russian ruble dropped almost 30 per cent in a single day. As of now, the sanctions have unfortunately only hurt Russian citizens, and caused further dismay to the President Putin.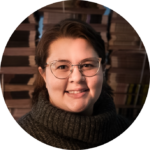 Associate Features Editor (Volume 48 & 49) — A recent graduate from UTM, Dalainey is currently working on completing her post-graduate studies in Professional Writing in Ottawa. She previously served as Staff Writer for The Medium's 47th Volume and as Associate Features Editor for Volume 48. Through her passion for languages, Dal hopes to create a fun and inviting atmosphere for readers through her contributions to the paper. When she isn't working, Dal focuses on developing digital art and writing her first novel. You can connect with Dal on her Instagram or LinkedIn.