Weekly exercise series: Zumba

Zumba provides opportunity for those at any fitness level to participate in classes that strengthen endurance, burn fat, and boost social skills.
Zumba is an exercise inspired by Latin American dance and is accompanied by a range of different upbeat and energetic songs. The popularity of Zumba has increased over the past couple of years, and some of the world's top fitness organizations have offered over 200,000 fitness classes in 180 countries.
Zumba requires full-body movement. It also offers an impactful workout in a fun and enjoyable way compared to other exercises. Following along with an instructor, movements resemble dancing to the beat of the music, and take place in large groups. This can help develop social skills and increase motivation.
One of the added health benefits of this exercise is burning a noticeable number of calories in a short time frame.
A study found that a 39-minute Zumba class burned an average of 9.5 calories per minute, which adds up to 369 calories in total for one class. This meets the daily requirement of calories needed to be burned to promote weight loss.
There are different types of Zumba classes depending on interests and whether a person has any injuries, thus making it inclusive for all to join sessions. Zumba classes also welcome individuals of any age group, with participants ranging from ages 12 to 76.
To get started, there are different types of classes for those who enjoy either low-intensity or high-intensity workouts.
Aqua Zumba classes offer a new mode of exercise as it takes place in a pool. This is perfect for those struggling with lower-extremity injuries and those who prefer low-intensity workouts, yet still want to meet their daily exercise requirement to stay in shape.
Zumba Step alternatively offers Latin-inspired choreography and aerobic steps that focus on leg strengthening moves. Exercises require stepping on and off elevated surfaces for an additional challenge, increasing endurance.
For optimal comfort, light, non-restrictive, breathable clothing is the recommended attire for a Zumba class. For an added touch, wearing fun vibrant colours adds festiveness to the group and the overall experience.
Zumba offers a unique approach to the body and mind when exercising. The dancing and lively music combined force you to follow a beat which keeps you from feeling bored. Music uplifts your mood and adds a new meaning to working out as it motivates you to reach new goals. Also, the presence of other supportive people can help you feel your best and push you to do your best.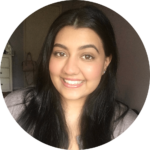 Staff Writer (Volume 48) — Anjalli graduated with a Specialization in Political Science and a minor in English. Through her contributions at The Medium, she aims to educate readers on the unique complexities of life and how we strive to overcome challenges collectively through policies and voice. In her free time she enjoys reading the latest news, meditating by her Saje diffuser, or looking at Pinterest for fashion inspiration. If you ask Anjalli what her favourite food is, she'd reply "a green dragon sushi roll!"