Weekly exercise series: Resistance training

RAWC's Virtual Fitness Studio offers resistance training classes for students looking to build strength from the comfort of their homes.
Resistance training encompasses exercises that focus on your muscles overcoming oppositional force, whether from equipment (dumbbells, kettlebells, resistance bands), or from bodyweight.
Exercises such as HIIT, plyometrics, Pilates, and yoga all count as resistance training. Some of these exercises focus on building strength while others improve muscular endurance, speed, agility, power, or reaction times.
The benefits of these exercises include improved heart health, reduced risk of osteoporosis, and enhanced performance in everyday tasks.
This fall, the Recreation, Athletics & Wellness Centre (RAWC) will be offering a Virtual Fitness Studio which includes a wide range of classes such as Bodyweight 360, Total Body Burn, Yogilates, Plyo HIIT, Boot Camp, and more. These classes focus on challenging your stamina and are available to students at any fitness level. Students can register for the Virtual Fitness Studio and see class schedules on the RAWC's website.
The Medium spoke to Alexandra Gikas, a second-year student majoring in economics with a double minor in math and French. She shares how attending lectures for hours and focusing on academics led her to feel burnt out without much time for herself.
"I've found in the past, I solely focused on my studies and left little to no time for myself. This just left me feeling burnt out and a lack of excitement to start my day," explains Gikas.
Engaging in short but frequent bodyweight exercises helped Gikas feel a sense of achievement which motivated and energized her to start tasks for school.
"I personally find a short, steady pace jog, followed by 10 minutes of bodyweight exercises like pushups and planks, is enough to re-energize me, without leaving my body feeling overly fatigued," says Gikas
"As a student who is sedentary and studies for most of the day," Gikas continues, "it is important to prioritize strength/resistance training to challenge your muscles which are resting for most of the day."
The Virtual Fitness Studio will offer classes seven days a week at no additional costs for students paying incidental fees. U of T staff, faculty, alumni, or the public are welcome to purchase a membership to join virtual classes, which provides access to on-demand recordings for classes they can't attend.
"I strongly encourage students to find a form of activity that leaves your body feeling motivated and energized, and to engage in 20 minutes of movement every day," shares Gikas.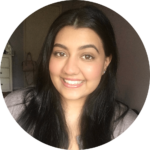 Staff Writer (Volume 48) — Anjalli graduated with a Specialization in Political Science and a minor in English. Through her contributions at The Medium, she aims to educate readers on the unique complexities of life and how we strive to overcome challenges collectively through policies and voice. In her free time she enjoys reading the latest news, meditating by her Saje diffuser, or looking at Pinterest for fashion inspiration. If you ask Anjalli what her favourite food is, she'd reply "a green dragon sushi roll!"