Vanessa Tiiu reflects on life as a full-time student, entrepreneur, and a content creator

Tiiu uses time blocking as means to balance being a student and a health and fashion vlogger.
"My idea for Instagram was to focus on fashion-related content, but to create content that was me in a nutshell," says Vanessa Tiiu, a content creator and vlogger. With more than 250,ooo followers on YouTube and another 38,000 on Instagram, Tiiu is balancing full-time school and content creation in her schedule, in addition to her businesses. She began her social media journey at 15, inspired by sharing her personality and interests with family and friends online. In 2019, her first year at the University of Toronto Mississauga (UTM), Tiiu decided to take social media platforms more seriously.
Vlogging, an emerging form of content creation, is a form of video blogging where creators highlight certain aspects of their lives. Focusing her content on health and fashion, Tiiu also incorporates her general entrepreneur and student lifestyle into her platforms by sharing some of her to-do lists and favourite coffee shops. From a viewer's perspective, content creation and vlogging doesn't seem like too much of a challenge. However, there is a lengthy behind-the-scenes process that involves time and skill, like the editing and photography process.
Tiiu is currently completing her undergraduate degree with a major in Biology for Health Science and a double minor in Psychology and Business at UTM. "The original thought was to pursue something in Biology to go to medical school for Sports Medicine, but over the years I have been drawn to some master's programs in Physiotherapy or Occupational Therapy," she explains.
In addition to being a full-time student and running her own social media platforms, Tiiu is the founder of a luxe streetwear clothing brand named Syrse Dawn, where she produces ethically sourced fabric to help put an end to fast fashion. She's also the founder of a health, fitness, and wellness club called The Health Cafe. The club offers customized personal fitness training and nutritional guidance, form correction, and lifestyle coaching.
Growing up, Tiiu played competitive soccer which helped her develop time management skills from an early age. "I had to incorporate things like commute and practice into my schedule when I was a kid, so I always had a busy schedule," she recalls. To stay organized, she used a digital and physical planner to keep track of tasks and daily goals.
She also relies on time blocking, a time management method where you organize your day into blocks of time allocated to the tasks you must complete. This type of organization is one of the most effective strategies in creating a healthy work-life balance. "Sometimes I'll schedule a block to shoot an outfit for some new content between classes, or block an hour to work on my business," explains Tiiu. "[Time blocking] is helpful for people with university schedules because classes are always all over the place."
Although Tiiu uses tricks to help focus her time and energy, she has occasionally questioned her busy schedule. The fall semester of 2021 was the first time where content creation was something she took on full-time alongside school. "There were lots of times [in] this semester where I wasn't meeting my own expectations and I questioned if I should drop content creation to solely focus on my education or vice versa," she recalls. "As much as I love creating content, I love being a student and pursuing my education, so I've developed thick skin and pushed through doing both simultaneously."
When the pandemic struck, she took advantage of online schooling. "The pandemic has actually given me enough time to work on both my education and content creation, especially with the flexibility of school being online," states Tiiu. "The ability to essentially bring school with me anywhere has blessed me with time I wouldn't have otherwise." This discourse has been particularly relevant with news of Covid-19 restrictions lifting and U of T announcing the return of in-person classes in the winter semester, leading some students like Tiiu to rethink their commitments in the next semester.
Looking back at her experience as an Instagram influencer and YouTuber, Tiiu reminds those who are interested in beginning their social media journey that they must push past their fears and go for it. While you can most likely list reasons for not starting to post content, she believes that you never know where it could lead you. "Nobody's first video is perfect," she explains. "In the grand scheme of things, your first video won't be your best, but you will slowly learn and get better at it over time and grow from there."

To learn more about Vanessa Tiiu, follow her on Instagram @vanessatiiu.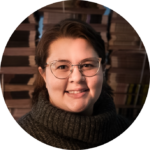 Associate Features Editor (Volume 48 & 49) — A recent graduate from UTM, Dalainey is currently working on completing her post-graduate studies in Professional Writing in Ottawa. She previously served as Staff Writer for The Medium's 47th Volume and as Associate Features Editor for Volume 48. Through her passion for languages, Dal hopes to create a fun and inviting atmosphere for readers through her contributions to the paper. When she isn't working, Dal focuses on developing digital art and writing her first novel. You can connect with Dal on her Instagram or LinkedIn.