Aroni's December of Discovery

Dance and daydream the end of the year away with this diverse playlist.
When I first heard the term 'third culture kid,' I could not think of anything else that described me better. I am Indian with Indian parents, but I was raised in Singapore, and now I am here in Canada finishing my undergraduate degree. Singapore has its own unique culture that is a mix and match of Eastern Asian and Western social and cultural practices. As a child, my parents always made it a point to immerse me and my sister in the local Singaporean culture. At home, they ensured we stayed connected to our Indian roots, by speaking to us in our mother tongue—Bengali— and watching Bollywood movies that were in Hindi. I took Hindi as a second language in primary school, as well as French in middle and high school. So, when someone asks me, "where are you from?" I stop and think for a moment. My identity, at the moment, is a blend of Indian, Singaporean, and Western norms, cultures, practices, values, and more—including the good and the bad parts.
The music I listen to reflects this jumbled sense of self. Every day, I bounce between music in English, Korean, French, Hindi, Bengali, and Punjabi. It really depends on my mood. I am an avid daydreamer. Sometimes, I love to put on music and walk aimlessly, daydreaming scenarios to the stories told in the songs. English songs set the stage for my own concerts, whereas Bollywood songs get me dancing along to choreographies in my living room. This month's playlist is a little taste of all the flavours that make up who I am. I hope you enjoy!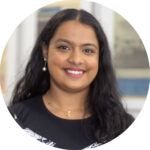 Opinion Editor (Volume 48) | opinion@themedium.ca —
Aroni is a fourth-year student completing a double major in Political Science and English. She previously served as the Associate Comment Editor for Volume 47. Aroni is keen on enabling a safe and trusted space within the student body for students to critically think about issues that matter to them—both on a personal to global scale. Outside of studying, writing, and editing, she loves to dance to classic Bollywood tunes, cycle while listening to music or a podcast, write in her blog, and watch endless K-dramas on Netflix and Viu. You can connect with her on Instagram, LinkedIn, or her blog.