Celebrity endorsements—the most popular menu item

Food and drink collaborations with iconic idols break both the internet and our wallets.
Most Canadian children born around 2000 remember National Hockey League (NHL) star Sidney Crosby as the face of Tim Hortons. I recently threw out a Crosby "Full Size Growth Chart" that I got from their drive-thru around 10 years ago—a memory that shows how Crosby has marketed with the coffee and donut chain on and off ever since Generation Z can remember. Their most recent collaboration was a commercial released at the end of August, featuring Crosby and NHL's Nathan MacKinnon going through the Tim Hortons drive-thru on a Zamboni.
While the Tim Hortons and Crosby pairing can be nostalgic, the internet's spotlight shifted to Starbucks. On November 12, Taylor Swift promoted her re-recorded album Red (Taylor's Version) by partnering with Starbucks to release Swift's go-to coffee order, a Grande Caramel Non-fat Latte named "Taylor's Latte." In a Swift-like style, Starbucks took to Twitter, posting different "easter eggs" to tease coffee-loving Swifties.
Before the drink's release, Starbucks tweeted, "It's Red Season," followed by multiple Red-themed emojis—including a coffee cup, sparkles, a red scarf, and a red heart. The Starbucks Twitter account also changed their bio to "On a Friday, in a café…" as a reference to track 16 on the re-recorded Red, "Begin Again (Taylor's Version)."
Swifties can also get Red-themed gift cards that are decorated with the lyrics "autumn leaves, falling down" from "All Too Well (Taylor's Version)."
However, Swift is not the only one who recently partnered with a coffee chain. Justin Bieber also announced his collaboration with Tim Hortons beginning on November 29, promoting holiday Timbits and merchandise.
The three Timbits, renamed Timbiebs, feature three new flavours—chocolate white fudge, sour cream chocolate chip, and birthday cake waffle—while the merchandise includes a beanie, tote bag, and fanny pack.
Bieber, born in Stratford, Ontario, grew up frequently eating at the franchise and said in an interview that "doing a Tim Hortons collab has always been a dream of [his]."
In retaliation to the new name, TikTok users began to tease the rebrand, calling them "Bieb's Balls," "Bieber Bits," and "BieBits."
However, these collaborations with celebrities that break the internet are nothing new, as we saw TikTok star Charli D'Amelio's endorsement of Dunkin' Donuts back in February. "The Charli" was D'Amelio's go-to coffee order—a Dunkin' Cold Brew with whole milk and three pumps of caramel swirl.
Dunkin' Donuts also went over the top for perks related to the drink, offering 100 bonus points by ordering ahead through the app and holding social media contests using the hashtag #CharliXDunkinContest. "Everyone knows that Charli runs on Dunkin', and now Dunkin' runs on Charli," said Drayton Martin—Vice President, Brand Stewardship at Dunkin'—in an interview.
It is not just coffee that celebrities find themselves endorsing. 50 Cent took on a contract with Vitamin Water, Beyoncé signed a $50 million deal with Pepsi, and Justin Timberlake helped advertise the iconic "I'm Lovin' It" marketing campaign for McDonald's when it was released in 2003.
With all the hype around celebrities and our favourite coffee, we start to wonder, do fans feel closer to their idols by drinking the same order?
It was proven that celebrity endorsements build brand equity, help customers remember advertisements, bring in fans who purchase the product, and help the brand stand out over competing companies and products that do not use celebrity branding.
So, will we see another Swift re-recorded album-themed drink pop up on the Starbucks menu? Will the sour cream chocolate chip Timbieb be good enough to generate future collaborations? Will Timberlake come out with another McDonald's endorsement 18 years later? Only time will tell.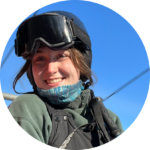 Staff Writer (Volume 48) — Lexey is in her third year as an English Specialisation and Professional Writing minor. She previously was Editor-In-Chief of Laurentian's student newspaper The Lambda and is currently the UTM Bureau Chief for The Varsity after transferring. When she's not writing articles, she's most likely studying in a cafe or hitting the slopes. You can connect with Lexey on Instagram and Twitter.