Vaccine updates for Ontario universities

Pressure emerges with the increase of vaccine mandates for many educational institutions.
Vaccine mandates are becoming increasingly prevalent for the lives of many, including students in Ontario. Vaccines have produced barriers to education, as students require both doses to attend classes during the upcoming winter semester.
Ontario's education minister discloses the risks if the province mandates vaccines for education workers at all levels. According to Stephen Lecce, nearly 50,000 individuals face the risk of losing their jobs due to failure of disclosing their vaccine status.
Many universities, including the University of Toronto Mississauga (UTM), have implemented a vaccine mandate for students to abide by, to facilitate the reintegration of in-person classes. At UTM, students are expected to be fully vaccinated, and if they are not, they must complete a rapid test to enter 'high-risk' environments.
However, not all universities are following a similar approach to this vaccine policy. Recent reports show that Laurier University has expected its students to be fully vaccinated with both doses with no exceptions to be able to attend in-person and online classes.
Current students taking in-person classes were expected to have their vaccination certificate by October 8, not including those taking online courses in the fall. The policy has prevented unvaccinated students from accessing their university course website and even being deregistered from their current courses, leaving many concerned and frustrated.
On the other hand, other universities, such as the University of Ottawa, are allowing students unable to receive the vaccine due to medical reasons to attend both in-person and online classes.
Further, Saint Mary's University has decided to suspend daily check-in requirements, as a high volume of students have been able to successfully provide their status. Take-home kits are also available at the school for any students who may need them.
Recently, many petitions insisting on the dual delivery of classes have become more popular on the UTM campus. However, based on a recent statement from Principal and Vice-President Alexandra Gillespie, this accommodation will not be considered due to restrictions and safety regulations.
"It's time to return, safely, to UTM—a public university with a responsibility to provide in-person teaching. Courses that started online in the fall will remain online, but starting in January, we will offer the majority of our classes in-person and provide the incredible campus experience that originally drew you to UTM," mentions Gillespie. "The vaccination rate amongst the U of T community is greater than 99 per cent, and we remain committed to our mask policy, UCheck health screening system and strategy on ventilation."
Though vaccine mandates restrict a handful of individuals from accessing education resources, they function in the best interest of both students and staff. Universities such as UTM are carefully considering the safety of the public community through the promotion of a vaccinated community.
More information on UTM's vaccination policy can be found on the U of T website.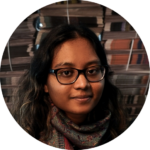 Staff Writer (Volume 49); Associate News Editor (Volume 48) — Razia Saleh is currently completing a Biology degree at UTM. She has been involved with The Medium since 2020 as a contributor and continued to write for The Medium as an Associate News Editor during Volume 48. She hopes that her experience as a writer with The Medium will help her contribute to society's efforts to provide authentic and factual journalistic media to educate her readers. She hopes to take her interest in ongoing research within the scientific field and explore ways to share it with others through this platform. In her spare time, she paints natural landscapes inspired by her travels and enjoy a few live concerts throughout the year. You can connect with her on Linkedin.