Shuttle bus services continue to operate under new guidelines and adjustments

Reduced capacity limits, mandatory screening tools, and other travelling measures in place for students seeking transportation.
The University of Toronto Mississauga (UTM) Shuttle Bus Advisory Group held a meeting on October 27 to revise changes to the university's current transportation system. During the meeting, it was announced that shuttle bus services will officially resume under certain conditions. These include the implementation of strict social distancing measures, mandatory masking policies, and necessary completion of the UCheck self-assessment tool prior to boarding. Failure to meet any of these requirements will inhibit passengers from boarding.
The maximum boarding limit—a measure put in place to reduce the spread of Covid-19—will now be 12 passengers starting this year. Depending on the number of cases that emerge, this rule is subject to change at any time. Some new changes also include enhanced software and hardware for passengers, such as an accessible lift, upgraded suspension, air conditioning, Wi-Fi, coach-style seating, and three-point seatbelts. There will also be frequent cleaning and sanitization of seats and high-traffic touchpoints.
Shuttle services will continue to be fare-free and unlimited for all UTM students that have a valid University of Toronto (U of T) student card (TCard) and are currently registered at the university. Other riders, including St. George students, faculty, and staff, will have the option of paying a ticket fare or purchasing a semester bus pass. The non-refundable ticket fare is seven dollars, and it must be purchased in advance at select locations. Drivers have the right to deny access to individuals who are not eligible to ride the shuttle bus.
The university's St. George and Mississauga campuses launched their calendars with a reduced schedule that can be found on the U of T website. Additionally, UTM is also offering a schedule for trips heading to Sheridan College, located by Square One Shopping Centre.
Due to Covid-19, Ontario's public transportation services have not been utilized as frequently compared to pre-pandemic times. According to a survey published by the University of Toronto Transportation Research Institute in August 2021, the second wave of Covid-19 has significantly shifted commuting patterns.
Approximately 32 per cent of respondents were reluctant to ride transit amid a public health crisis, while 12 per cent were reconsidering their means of transportation. Even though 56 per cent of those surveyed had no intention to stop using public transit, 58 per cent indicated owning a car to be more appealing. Among the pool of respondents, 14 per cent purchased vehicles between May 2020 and March 2021.
Students at the UTM campus believe that resuming transportation services will greatly benefit them, especially considering the transition to in-person learning. Samuel Squires, a first-year management student at UTM, provides his insight on these new changes. "I think it's a really good service and it's really helpful that the school offers it." Similarly, Murphy Zhai, another first-year management student, states that "it's good news, easier and cheaper for us when we shift back in person."
Shuttle bus services are open on weekdays from 5:50 a.m. to 9:00 p.m., while office hours at the Parking & Transportation Services Office are available Monday to Friday from 8 a.m. to 4 p.m. Within these hours, students can inquire about any transportation needs such as questions regarding routes, prices, and more. Office hours will not be available during holidays, university closures, study breaks, exam sessions, and reading weeks.
As public transit is costlier for UTM students, shuttle bus services offer an advantage for many to ride at no charge. These services also consider the experience of passengers by providing accommodating resources such as free wireless networking and comfort.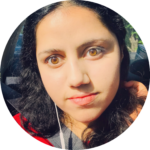 Staff Writer (Volune 48) — Shreya is in her first year at UTM, seeking a double major in business management and English. She hopes to bring attention to worldwide issues and inspire others to change their mindsets through her contributions to The Medium. When she is not writing articles, you can find her sipping coffee and reading, watching classic films, listening to music, or engaging in photography.