U of T's 12-step plan mandates full vaccinations for returning students and staff

The university's recent 12-step plan outlines rules and changes for students and staff returning on campus.
Beginning this fall, the University of Toronto will require all individuals attending any of the three campuses to be fully vaccinated. The university has implemented an extensive 12-step plan for not only students, but staff and faculty as well. Any individual that will be attending campus must self-declare their vaccination status before taking part in any in-person proceedings.
Some features of the plan include the required wearing of non-medical face masks in all indoor areas, physical distancing, mandatory self-screening, upgrading classroom ventilation systems, and other safety measures.
Responses regarding one's vaccination status will be submitted to the university anonymously. These responses will aid U of T in providing ongoing information about vaccinations and will help to improve safety measures on campus.
Earlier this June, U of T announced that all students planning to live in residence during the 2021-2022 academic year are required to be vaccinated and must have their first dose prior to moving in. The university has already demonstrated their advocacy for the vaccine by opening up pop-up clinics on their campuses and hosting a vaccine pow wow clinic in U of T's Varsity Stadium in June.
Following the advice of local public health authorities, these policies were developed and endorsed by the Region of Peel and Toronto Public Health.
In a public letter addressed towards all faculty, librarians, and staff, Meric Gertler, President of U of T, states, "The University of Toronto will require that all those intending to be present on our campuses be fully vaccinated against Covid-19 in accordance with all applicable laws and regulations."
Those who refuse to declare their vaccination status will be required to participate in rapid-screening tests twice a week. Their results must be negative within 72 hours of arriving on campus.
However, the university does recognize there will be personal circumstances where individuals are unable to receive the vaccine. Exemptions will be permitted on religious or medical grounds where individuals must provide a documented medical reason.
To reduce the risk of Covid-19 transmission, individuals entering certain buildings on campus will be encouraged to scan a QR code to promote contact tracing. Should a potential exposure take place, the university will notify those who have scanned the code as soon as possible.
Other Ontario universities including the University of Guelph, Ontario Tech University in Oshawa, York University in Toronto, Western University in London, and Queen's University in Kingston will also require proof of vaccination.
Gertler further states in his letter, "Our plans are consistent with those of our peer institutions in Ontario. In fact, we are pleased to see others now adopting the standards we have established in planning for a safe return to in-person activities."
Any persons experiencing symptoms are encouraged to stay home and self-isolate. Several assessment centres are available to facilitate testing. More information can be found by contacting your local health unit.
U of T has also implemented a comprehensive guide online where anyone will be able to access a frequently asked questions page regarding vaccines and other information.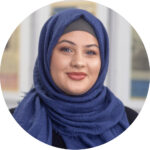 News Editor (Volume 48) | news@themedium.ca —
Going into her third year, May is currently completing a double major in Sociology and Criminology. Before becoming News Editor, May contributed The Medium for two years as a Staff Writer and Associate Features Editor. One of her biggest goals is to launch a nonprofit organization that mediates humanitarian crises around the globe and that supports children living in third-world countries. When she is not writing or studying, May spends her time working with canine coaches to provide supervised fun to four-legged furry friends at Dogtopia Applewood.