UTMSU invites students to virtual Commission Meeting to discuss upcoming campaigns and events

Mental Health Awareness Week, Undergraduate Research Symposium, and Sustainability Week are just a few of many campaigns that will be offered to students in the 2022 Winter term.
On January 17, the University of Toronto Mississauga Student Union (UTMSU) hosted their annual Commission Meeting via Zoom at 4 p.m. The meeting outlined upcoming campaigns, which have a budget of $6,000, for the 2022 Winter semester.
The President of the UTMSU, Mitra Yakubi, discusses the budgeting process and how it was allocated. One of the main goals of the group was to provide a budget that is fair and reasonable for students of the UTM community.
To generate funding, the UTMSU collects union dues from each member but also receives additional financial aid from sponsors, services, and government grants like Canada Summer Jobs. Union dues are monthly contributions made by members of the UTMSU, which are then pooled to make up their budgeting, resources, and wages.
"At the beginning of each school year, the UTMSU Board approves a preliminary budget where we allocate funding to different line items," Yakubi says.
Funding is determined based on spending from previous years and students' priorities, needs, and suggestions.
"The executives are then tasked with bringing forth proposed budgets for each commission—campaigns and advocacy, student life, student services—where we get feedback, ideas and pass the budget," explains Yakubi.
To receive final approval, the UTMSU presents the revised budgets to their Board of Directors.
Vice President External Maëlis Barre mentions how these commission meetings are essential for students to benefit from services such as the UPass program.
"The UPass program is something that came out of commissions, it was advocated for based on student ideas to create more efficient transit systems," she mentions.
During the meeting, the first topic that was discussed was Mental Health Awareness week. The timeframe of this campaign, which includes preparation and execution, will take place from January to April 30 with a budget of $1,000. This budget will cover the expenses of any events taking place during the week.
For virtual programming, gift cards will be administered to winners of raffle activities. The raffles will be used as an incentive to increase participation. Any external speakers will also receive compensation.
For any in-person programming such as care packages, the budget will be used to purchase materials such as notebooks, highlighters, pencils, snacks, granola bars, juice boxes, mittens, socks, and toothbrushes.
The second priority is the Undergraduate Research Symposium. Preparation and the event will take place from January to March with a budget of $3,000. The funding for this event will be used to cover any expenses for the program. For virtual programming, gift cards will be presented to judges as well as grand prizes for the winners and candidates participating in the symposium.
Vice President of University Affairs, Merica Carlos, discusses how this event will give students an opportunity to put forth their research and collaborate with faculty. "It gives students an opportunity to meet new friends, colleagues, and win a grand prize if you present your research," Carlos states.
The third priority is Sustainability Week, an event that will take place in March with a budget of $2,000. The money for this campaign will be used for numerous events that will be held in March to raise awareness on how students at UTM can lead a sustainable lifestyle. Some events will give students the chance to win one of many sustainable prizes.
Vice President of Equity, Ryan Tomlinson, mentions this month will focus on specific events that promote sustainability and environmental justice.
"There will be many panel discussions and giveaways including seeds and pots to make at-home vegetables," he states.
This event will promote sustainability and offer educational tips from various speakers. "Panels will resemble interesting thought-provoking topics similar to last year's discussion on environmental racism," continues Tomlinson.
The 2022 budgeting plan is set to provide students with various interactive campaigns and events that relate to healthy lifestyle choices and academics. Students can expect virtual and in-person events offered by the UTMSU throughout the Winter term.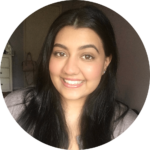 Staff Writer (Volume 48) — Anjalli graduated with a Specialization in Political Science and a minor in English. Through her contributions at The Medium, she aims to educate readers on the unique complexities of life and how we strive to overcome challenges collectively through policies and voice. In her free time she enjoys reading the latest news, meditating by her Saje diffuser, or looking at Pinterest for fashion inspiration. If you ask Anjalli what her favourite food is, she'd reply "a green dragon sushi roll!"