U of T overlooks accessibility concerns for students with medical conditions

Students use popular social media platforms like Reddit and Instagram to voice their concerns regarding in-person instruction.
In response to U of T's decision to maintain in-person learning for a few courses during the new semester, several students are expressing concerns over their health and safety—especially those who are immunocompromised.
The rapid growth rate in Omicron infections places those suffering from medical conditions at a much greater risk than others. Students at the University of Toronto Mississauga (UTM) are coming together and holding the school administration accountable for overlooking these concerns.
Started by Transparent UTMSU, #UTMDivided is a movement many students have joined to raise awareness about these issues while combating the barriers UTM has abstractedly established.
On their Instagram, tagged @TransparentUTMSU, the group of student volunteers share testimonies and answers questions regarding these safety concerns.
A hybrid learning approach is one of the many aspects the movement advocates for. This approach enables students to choose between a virtual or in-person mode of delivery and, for many, this model is critical.
U of T and its tri-campus system are continuing to implement in-person learning for a few courses, even with current Covid-19 restrictions. On their website, U of T states that with public health guidance, the university has shifted a majority of courses online until January 31 with the exception of a few.
"For students like me, or for students who have family members who are immunocompromised, it's way easier for us if we are given the necessary online accommodations," says Shen Fernando, co-founder of Transparent UTMSU.
Fernando is a third-year student at UTM currently completing a major in Political Science with a minor in Education Studies and History of Religions.
"They are essentially forcing all of us to risk our health [and] to go into a campus with 14,000 other people with [minimal] physical distancing and limited mask mandates." Though physical distancing and mask regulations are enforced by the university, Fernando states that only a handful of students actually comply.
Before UTM's Town Hall Meeting on January 19, some faculty members were unable to record lectures for their courses that have already been subject to an in-person learning stream.
Several professors at UTM were demonstrating concerns, as they were instructed by the Dean to no longer post recorded lecture material on Quercus—U of T's main online teaching platform—once classes are back in-person.
However, it was announced during the meeting that professors now had the option to record their lectures—a proud achievement by Transparent UTMSU.
Using the hashtag #UTMDivided, students are taking it to the university's Google Reviews to voice their concerns and raise awareness about these issues. Several are rating UTM a one-star of five and leaving comments about their standpoints.
"#UTMDivided—Poor planning of opening in-person classes. Poor communication with students regarding these plans," one Google user writes.
Not only are students calling out the university for their decisions, but they are also holding the administration accountable for the disorder that they have provoked.
Another user writes, "#UTMdivided—You are close to losing me as a student for all the mess you guys have created and how little to no action you guys take."
However, Google Reviews is not the only platform students are using to raise awareness about U of T's lack of communication and support. Reddit is another network the UTM community is using to voice these issues.
On a particular thread, one user shares a video that holds UTM administrators accountable for their poor decision-making.
Fernando also mentions that several students have emailed the university and Principal Alexandra Gillespie regarding these concerns but have only been faced with indefinite responses.
"The university is actively going against their own policies of equity, inclusion and diversity by doing this," says Fernando.
Additionally, Fernando claims that the university is not addressing concerns about health and safety. Instead, students who have emailed administration are receiving open-ended responses from the university.
Through these efforts, many students feel that UTM is not adhering to the needs of immunocompromised individuals who are demanding better learning conditions. When it comes to accessibility issues, students feel as though the university administration is contradicting their own integrity policies by neglecting student concerns.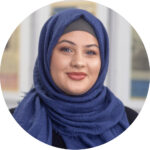 News Editor (Volume 48) | news@themedium.ca —
Going into her third year, May is currently completing a double major in Sociology and Criminology. Before becoming News Editor, May contributed The Medium for two years as a Staff Writer and Associate Features Editor. One of her biggest goals is to launch a nonprofit organization that mediates humanitarian crises around the globe and that supports children living in third-world countries. When she is not writing or studying, May spends her time working with canine coaches to provide supervised fun to four-legged furry friends at Dogtopia Applewood.