UTM approves proposal for a minor in Global Leadership

The Department of Language Studies at UTM will be providing students opportunities to develop leadership skills and explore global challenges through a newly approved program.
On January 11, 2023, in a University of Toronto Mississauga (UTM) Academic Affairs Committee meeting, Associate Dean, Academic Programs, Marc Dryer presented the proposal for a new freestanding minor in Global Leadership at U of T. The proposal was approved and will be effective starting September 1, 2023.
The aim of the program is to develop students' leadership skills under a global lens, as well as their ability to evaluate the definition of global leadership—how it is interpreted and contested across various academic disciplines and cultures.
"Now, more than ever the world needs principled, inclusive, and empathetic global leaders," said Dryer in the proposal, aligning closely with UTM's intent to "educate future leaders to be global citizens meeting complex challenge." At the UTM Academic Affairs Committee meeting, he added, "The program offers students the opportunity to investigate not only what leadership has, and does mean, but what it could mean as we move into a future with unprecedented global challenges."
Notably, the program is a tri-campus collaborative endeavor, as it will be administered through the University of Toronto Scarborough (UTSC) campus' Department of Management, and at the University of Toronto St. George (UTSG) campus' Faculty of Science and Engineering, Daniel's Faculty of Architecture, and Faculty of Kinesiology and Physical Education.
At UTM, the program will be administered by the Department of Language Studies, providing opportunities for students to develop language and cultural competencies as well. According to Dryer, he wants the program to "reflect a common core experience for everyone, while providing a distinct academic experience unique to UTM."
For the 2023-2024 academic year, the program will admit 100 students—through a common creative application process—with 25 students from UTM, 25 students from UTSC, and 50 students from the UTSG faculties. "These 100 students will represent a broad spectrum of interests, backgrounds and growing expertise; they will form a cohort as they complete three newly formed core courses common to all of these five minors," stated Dryer.
The three core courses, delivered amongst the three campuses are to be taken sequentially and consist of GLB201: Global Leadership: Past, Present, Futures at UTM; GLBC01: Global Leadership: Theory, Research and Practice at UTSC; and GLB401: Global Leadership: Capstone Project at UTSG. These courses will include both synchronous and asynchronous online delivery methods, along with in-person classes for guest-speakers and group activities, all providing opportunities for experiential learning.
Moreover, the minor will be categorized as a Type 3 Program, limited to only 25 UTM students who meet the minimum requirement of a 2.7 GPA—based on the students best scoring 3.0 credits. The cut-off can change annually according to the number and academic standing of applicants. The proposal outlines that, "Admission decisions will be based on a combined assessment of student interest, experience, promise of future leadership potential, and the diversity the student brings to the perspectives of the future class."
Students may apply to the program at the end of their first year, and must be in second year at the start of GLB201. Students who will be in their third year by the time the GLB201 commences are not eligible for the program unless they make a special request. This limitation is subject to change in future academic years. "I think that this will be a very popular option for students and that the admissions will be very competitive," emphasized Dryer.
While completing the 2.0 credits of core courses for the minor, students must take elective courses in their respective campuses that fall under the categories of Leadership; Global Issues and Equity; and Diversity and Inclusion, to earn 1.0 to 1.5 credits. They must also complete between 0.5 to 1.0 credits from the category of Communication and Cultural Competencies. A total of 4.0 credits must be completed for the minor.
According to Dryer, there is a broad selection of electives for students from many UTM departments, such as Anthropology, English and Drama, Geography, Historical Studies, Language Studies, Management, Political Science and Sociology.
"This innovative approach to collaboration, and diversity of thought and background, will create an excellent academic experience for many students," asserted Dryer, restating his hopes that the minor in Global Leadership will support the development of future leaders.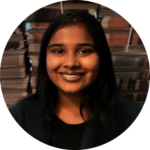 Staff Writer (Volume 49) — Angelina Jaya Siew is currently in her first year at UTM, seeking to specialize in Criminology, Law and Society and minor in French. After completing her secondary education in Trinidad and recently moving to Canada, she started writing for The Medium as a way to to highlight important global issues and encourage debate on controversial topics. When Angelina is not writing or studying, she is reading the latest mystery novel, travelling to different countries, or getting her almond milk vanilla latte at Starbucks.