United Nations announces new theme for International Women's Day

#BreakTheBias focuses on climate change and the contributions of women during the 2022 year.
Since 1910, International Women's Day (IWD) is celebrated all around the world to recognize the many achievements of women. Originally proposed by Clara Zetkin at the International Conference for Working Women, the first International Women's Day was observed in Denmark, Germany, Austria, and Switzerland in 1911. The idea called for a day every year to celebrate women across the globe.
After being officially celebrated by the United Nations (UN) for the first time in 1975, the organization announced their first annual theme in 1996, "Celebrating the past, Planning for the future."
Since then, every year on March 8, the world celebrates a universal theme advocating for women's equality. This year, the UN announced the theme of "Gender equality today for a sustainable tomorrow" under the hashtag #BreakTheBias.
The theme aims to highlight women's leadership and contributions regarding the ongoing climate crisis. According to a recent article published in December 2021, the UN found that women are "more vulnerable to climate change impacts than men," as they tend to make up more of the world's impoverished population and are more reliant on natural resources.
This year, the UN is marking International Women's Day with a virtual observance. The event will include a musical performance by Filipino American singer Angelica Hale and other speakers like anthropologist Jane Goodall, UN Messenger of Peace; Maria Reyes, a climate justice activist; and Mathu Joyini, Chair of the 66th Commission of the Status of Women.
In England, various events will take place in the country's capital, London, for International Women's Day. Activities include a bike ride starting at the National Theatre and the famous Women of the World (WOW) festival. The WOW festival, described as the world's largest festival celebrating women, will feature panel discussions, guest speakers, performances, and debates on a variety of topics. The event will take place from March 11 to 13 at the Southbank Centre.
Another event occurring in thirteen cities across the world—including Edmonton, Alberta—is the Women's Climate Strike, which is a day of action for women to raise awareness and protest against climate change. The event also invites women to advocate for equality and women's rights. Participants are encouraged to take photos at these events, in order to lobby politicians. Other cities participating include Chihuahua, Mexico; Limassol, Cyprus; Wrexham, Wales; and Cape Town, South Africa.
In Copenhagen, Denmark, the birthplace of International Women's Day, there will be an event under the theme "Breaking the Bias: A Celebration of Success." Speakers include Mira C. Skadegard, an assistant professor at Aalborg University, and author Birgitte Baadegaard.
In India, a key event is the International Women's Day Simulathon, a virtual event designed around a series of simulations in which participants will display key skills in specific industries, with the aim of removing bias and increasing diversity.
In the U.S., San Francisco will host a series of events during the whole month of March, including Women's History Month, hosted by the San Francisco Public Library, and the Haas Women in Leadership Conference, which is celebrating its twenty-sixth year.
In Melbourne, Australia, women will have the opportunity to meet, talk, and celebrate at the International Women's Day Gather—an in-person workshop inviting women to share their stories with others. The main point of discussion will be in line with this year's theme, highlighting women who have pushed boundaries and broken the bias, as well as "modern-day" womanhood.
In Canada, the Canadian Women's Foundation will highlight the way the workplace has changed and continues to evolve for women. They will host a virtual workshop on how to support diverse workplaces, as well as how to take steps to make that the new normal.
A little closer to home, the University of Toronto Mississauga (UTM) will also be recognizing IWD. The Women and Gender Studies Program will host a panel over Zoom on feminist ethics, featuring Mercy Lillian, a UTM alumna, and other speakers.

The International Women's Day website encourages individuals across the globe to engage with this year's theme through taking photos while using the hashtag #BreakTheBias. By using this hashtag and spreading awareness about this day, individuals are not only celebrating women but addressing issues of inequality and women discrepancies.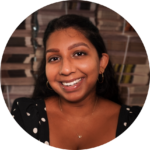 Staff Writer (Volume 48 & 49) — Hema is currently in her final year, finishing a double major in Linguistics and French Language Teaching and Learning. She previously served as a Staff Writer for Volume 48 of The Medium. Her favourite part of writing is the opportunity to research new topics, speak to new people, and make her voice heard, and she hopes that her articles can spark this interest in other students. In her spare time, you can find her in bed reading with a cup of coffee (and she's always looking for more book recommendations!).