Majority rules—A woman's world

"The decisions we make are not inclusive of women but are made by women. We aren't representative, we are reality."
Nine out of the 13 positions at The Medium are held by women. I'm one of the four men. I never noticed that until this week, as I write this editorial. Maybe I never noticed because women have always been bosses to me.
For half of my life my mother raised my brother and I alone, as my father stepped out to live his own life, selfish as many fathers are. When my brother was born nearly thirty years ago, she was broke, and while my father wasted what little money they had on a $3000 suit from Harry Rosen, she scavenged a crib, toys, household items from curbs on garbage day. That year she went back to school at St. Michael's college. She graduated and she clawed her way through the various corporate boys clubs and glass ceilings that saw her as no more than a mother. By the time I was born, she could support our family. Now she's a boss at Saputo, an HR director for all of Canada.
My aunt too is a role model. She once teased me for an hour because I wouldn't say "please" to her. That was when she was young. I thought she was mean. She was just having fun, and I was a whiny little boy. Now she's the director of original programming for Rogers. She's so badass that she brought me to a premiere for one of her shows, Bad Blood, and I got to meet Paul Sorvino, best known for his role as Paul Cicero in one of the most iconic gangster movies in American cinema, Goodfellas.
These were my idols. These were the bosses that guided how I saw the world. And now I look up to my new bosses. The powerful and talented women that lead our team. Having a majority of women on the masthead doesn't make us special, it just means they worked harder and were better for the job than any other man on campus. It means the decisions we make are not inclusive of women but are made by women. We aren't representative, we are reality. A world that still has that glass ceiling but one in which a group of nine women and four men are trying to crack through and float on past the other side.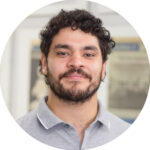 Copy Editor (Volume 48) | miguel@themedium.ca —
Miguel graduated with a double major in English and Professional Writing and Communication in 2021. He has contributed as a Sports and Arts writer for The Medium and has published and edited stories in several campus journals. Miguel started writing when he was seven years old with blatantly plagiarized blockbuster hits written on sheets of stapled paper and sold to his parents for nickels and dimes. Since then, Miguel has developed an obsession with stories as a means to share the way people experience and construct the world around them. He also loves Formula One Racing, hiking, tipping canoes, Michael Ondaatje, and his cat Otis. You can connect with him on Instagram.