The M's Playlist: A Nameless November with Larry
Music is an important part of my life—always has been, and always will be. While writing is an amazing medium of expression, I find some things are easier to communicate through the power of interwoven notes.
Glancing at this playlist, you'll probably notice a few things. There's music containing three different languages, namely English, Chinese, and Japanese—the last of which I'm still learning. Multiculturalism, reflected by this multilingualism, is a central theme of my fragmented life experiences. While it is phenomenal to understand the cultures of people across the globe, I feel a bit confused as to where home is located when in the company of so many distinct cultures. Home feels like a nameless place to me, seemingly everywhere yet nowhere at once.
After listening to this playlist, you'll probably notice that most songs are melancholic and—if the English lyrics give it away—related to heartbreak or love. As a person who spent most of his life in some form of solitude or isolation, I never really understood the feeling of love. To me, love is something that is nameless.
Now, although I have failed to learn anything useful about romantic or familial love through music, I have learned a tad bit about self-love. What I invite everyone to do is to perhaps save a little bit of the love and compassion you give to other people for yourself. You are your most energetic cheerleader, your most reliable friend, and you are your nameless, unconditional source of resolve.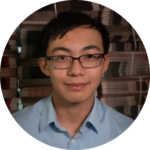 News Editor (Volume 49) | news@themedium.ca — Larry is a third-year student specializing in accounting. He finds writing to be an outstanding medium to spread messages, thus being a phenomenal way to express oneself and to have one's voice heard. Through his contributions to The Medium , Larry hopes that everyone can witness how enjoyable and invigorating writing can be, such that they too may be inspired to write out their stories. When he's not studying or writing, Larry will probably be learning Japanese or listening to music, all the while contemplating what life's next story would be.