The dangers of online dating

Government agencies advise dating app users to exercise skepticism and reject money transfers to avoid emotional and financial heartbreak on Valentine's Day.
Trigger warning: Sexual assault.
The prevalence of online dating has grown exponentially in recent years. Yet, while people can use online dating forums and apps to find love, they can just as easily find themselves in life-threatening situations.
According to a NBC article, on January 4, 2023, a man assaulted and tortured a woman he met through Bumble, an online dating app. After she rejected his sexual advances, the woman was kidnapped, beaten, and starved for five days. She was only able to escape after her kidnapper left the apartment. The man was subsequently charged for aggravated kidnapping and placed in jail.
Additionally, the Canadian Anti-Fraud Centre (CAFC) noted that in 2021, there were 1,928 romance scams reported to the CAFC, which resulted in a total loss of $64,604,718 for victims. The CAFC explained that romance scammers use online apps to build trust with unsuspecting victims, subsequently defrauding them by asking for money or gifts.
Some scammers might send a love declaration before meeting you in person, ask to speak with you outside of the online app through phone or email, and not want you to tell others about your relationship with them. Ultimately, the most obvious sign that the person chatting with you is a scammer is if they ask you for money.
According to an article published by Norton—an antivirus and cybersecurity software provider—women are more vulnerable to romance scams than men.
Despite the dangers, there are numerous ways for dating app users to protect themselves while still capitalizing on dating opportunities provided by such platforms. Most importantly, when meeting online dates in person, users should arrange to meet in a public space and let friends or family know of the meetup location.
Additionally, Canada's Edmonton Police Service emphasizes that dating app users should never send money to someone they are dating online. Users are also advised against accepting any money transfers from online companions, which can cause them to become unintentional participants of money laundering schemes. Additionally, users should avoid sending sexually explicit photos of themselves, since they can be used by scammers as blackmail. To safeguard their personal safety, the police also advise users to avoid disclosing their location.
Furthermore, online dating platform users should not hesitate to research the name and find images of their online date. This helps with determining the authenticity of the dater's profile and identity.

Due to reports of sexual harassment related to dating apps, many dating platforms are implementing various measures to ensure user safety. For example, Tinder installed a mechanism that automatically identifies offensive language in texts and requests the sender to change their words. Likewise, Bumble has introduced a "Private Detector," a technology that initially blurs inappropriate images sent to other users. Dating apps have also installed user verification to limit catfishing. Regardless, online daters must be cautious when using these platforms to avoid both physical and financial harm.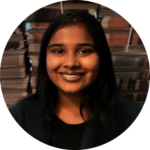 Staff Writer (Volume 49) — Angelina Jaya Siew is currently in her first year at UTM, seeking to specialize in Criminology, Law and Society and minor in French. After completing her secondary education in Trinidad and recently moving to Canada, she started writing for The Medium as a way to to highlight important global issues and encourage debate on controversial topics. When Angelina is not writing or studying, she is reading the latest mystery novel, travelling to different countries, or getting her almond milk vanilla latte at Starbucks.