The Art Gallery of Ontario reopens with the Andy Warhol exhibit

Exploring the life of Andy Warhol through displays that pop with his ideals and inspirations.
The Art Gallery of Ontario (AGO) has finally reopened with exciting exhibits for visiting art fanatics. Classic Canadian art, statues, and historic artifacts are back on display for thespians to enjoy on an afternoon stroll through Ontario's most renowned collection of art.
One of the AGO's most exciting exhibitions currently features art by Andy Warhol, a leading artist in the pop art movement of the '50s. The exhibit leads visitors through an interactive biography of Warhol, from original sketches created in childhood to stories of his attempted assassination by Valerie Solanas. Displays, such as his hour-long recordings of his mother resting and his floating "Silver Clouds," showcase Warhol's exploration of performance-based arts. Artifacts from Warhol's personal life are also on display, with various wigs worn later in Warhol's life placed in glass boxes alongside some of his signed books.
Warhol was obsessed with the American way of life. Having grown up in a poor immigrant household, Warhol craved the consumeristic lifestyle of the United States, which inspired many of his works, like the 1962 "Campbell's Soup Cans."
Warhol consistently challenged societal boundaries with his studies of gender fluidity and sexuality. As a proud member of the LGBTQ2S+ community, Warhol explored these topics through many of his series. Previously controversial paintings of African-American transgender women and drag queens of the 1970s are prominently framed throughout the exhibition next to Warhol's outstanding pop art rendition of Marilyn Monroe.
Photographs of American criminals taken by Warhol and chilling paintings of Jackie Kennedy in her infamous blood-spotted Chanel suit are shown, representing Warhol's fascination with violence and crime in the United States.
Warhol was widely known among American celebrities, with a lengthy list of famous friends including David Bowie and the Rolling Stones' Mick Jagger. His A-lister friends would often visit The Factory, Warhol's well-known workshop, and inspired many of his works. Paintings of Warhol's friends are scattered through the AGO's exhibition, guaranteeing that visitors will see familiar faces through the gallery. Another display includes vintage Vogue and Time magazines that showcased the popular influencers during the time of publication in Warhol's signature pop art style.
A live, virtual, and free-of-charge talk on September 8 featuring the Warhol exhibition and Karen Kain is the AGO's latest event. Kain, a former Canadian Principal Dancer for the Corps de Ballet, was immortalized in an original Warhol print in 1980. She has been invited to the AGO to discuss her experience of being the spotlight for such an iconic work of art. Those interested in registering can do so on the AGO's website. The Warhol exhibit will run until October 24, 2021. 
Alongside Warhol's work, Canadian artist Matthew Wong's "Blue View" and other oil paintings are available to see until April 18, 2022, showcasing a variety of classical pointillism and fauvism styles. Wong beautifully incorporates Chinese calligraphy as an ode to his Chinese-Canadian background and illustrates incredible nocturnal landscapes, which heavily influences spectators' moods through hundreds of blue tones.
A particularly grasping exhibition on display until January is Shuvinai Ashoona's "Beyond the Visible," illustrating Inuk traditional teachings and legends in coloured pencil and graphite. Regular collections include a vast curated collection by Canada's Group of Seven, African art collections, and a variety of photography, paintings, and performance art by emerging Indigenous Canadians.
All visitors must purchase tickets and reserve a time slot online before visiting the AGO as they do not take walk-ins due to provincial Covid-19 capacity restrictions. The AGO also requires all visitors to wear masks covering the nose and mouth. Packing lightly is also a must as the coat check is closed until further notice.
The exciting lineup of upcoming feature exhibitions include "Picasso: Painting the Blue Period" beginning on October 6 and "Robert Houle: Red is Beautiful" beginning in early December. Visit the AGO website to reserve your ticket.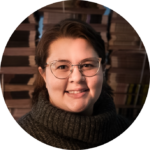 Associate Features Editor (Volume 48 & 49) — A recent graduate from UTM, Dalainey is currently working on completing her post-graduate studies in Professional Writing in Ottawa. She previously served as Staff Writer for The Medium's 47th Volume and as Associate Features Editor for Volume 48. Through her passion for languages, Dal hopes to create a fun and inviting atmosphere for readers through her contributions to the paper. When she isn't working, Dal focuses on developing digital art and writing her first novel. You can connect with Dal on her Instagram or LinkedIn.