The M's Playlist – Singing in September with Liz

For the first edition of The M's Playlist, Editor-in-Chief Liz shares her 12 all-time favourite songs.
The most embarrassing period of my life might be when I listened to only country music and wore a zebra cowboy hat every chance I got. I'm way past this phase (except for my lingering obsession with Chris Stapleton, he gets a pass), and now I think my music taste has become more diverse.
As a singer myself and having grown up in an artistic and musical family, I love to listen to various genres and artists. Whether I'm studying, writing, cooking breakfast, at the gym, or on my commute, you'll always find me with my AirPods in, getting lost in lyrics, melodies and beats—often singing and dancing along.
When I study and try to be productive, I enjoy listening to more lyrical music but gravitate to rap and R&B when I need a pick-me-up.
The 12 songs in my playlist are my all-time favourites; these are the songs I never skip when they come on shuffle. Additionally, and although not reflected in my 12 songs, I love to discover up-and-coming artists and their work. Music keeps us connected and makes for a great conversation, whether when meeting new people or with long-time friends. Sharing playlists and songs puts a smile on my face. Feel free to connect with me on Spotify (@lizprovost)—my gym playlist is pretty killer.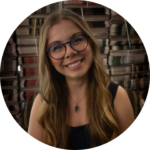 Editor-in-Chief (Volume 48 & 49) | editor@themedium.ca — Liz is completing a double major in Chemistry and Art History. She previously served as Features Editor for Volume 47, and Editor-in-Chief for Volume 48. Liz is extremely excited to have spent her time as an undergrad at The Medium, and can't wait to inspire others and be inspired in her final year at UTM. When she's not studying, working, writing, or editing countless articles, you can find her singing Motown hits at her piano, going on long walks by the lake, or listening to music. You can connect with Liz on her website, Instagram, or LinkedIn.