Taylor Swift's insomnia leads to her biggest album debut of all time

Swift's Midnights broke Spotify, the Billboard Hot 100 chart, and our hearts
On October 21, Taylor Swift released her tenth original studio album Midnights, a thematic spin on her usual discography where each song is inspired by her favourite time of day—midnight. The album recounts "13 sleepless nights" throughout the course of Swift's career. With her penchant of penning her life into prose, Swift pines in anticipation, revels in regret, and wishes for the sun to stay hidden under the horizon.
Potentially her most cohesive album yet, fans are receiving not only a glimpse into Swift's mind, but also her life. Equipped with electric pop and soul-crushing ballads, Swift reminds us of her autobiographical prowess. Breadcrumbing her life through whispers of lost love and past arguments, a "chaotic surprise" came three hours after the initial album's release. Midnights (3am Edition) includes seven bonus tracks fueled by the sleep-deprived anti-hero. Just when we had experienced enough heartbreak, songs like "Bigger Than The Whole Sky" and "Would've, Could've, Should've" were added to the Midnights' roster.
When Swift advised to "meet [her] at midnight," the world listened. With wildfire success, she broke the record for the most streamed artist within 24 hours in Spotify history, causing the streaming platform to crash when the album released. If we are speaking about stats, Midnights grabbed the number 1 spot on the Billboard 200 albums chart and, most impressively, Swift became the first artist in history to claim all top 10 slots on the Billboard Hot 100 chart.
The album commences with "Lavender Haze," a beat-heavy production where Swift refuses to apologize for staying comfortable in a private relationship. She chants, "get it off your chest/get it off my desk," mocking those who have scrutinized her for enjoying her love bubble with long-time actor boyfriend, Joe Alwyn. Through her upfront and authentic lyrics, Swift sheds light on society's habit of placing women in labelled boxes.
With Midnights, collaboration hits new heights. "Snow on the Beach" features Lana Del Rey with previous Teen Wolf star, Dylan O'Brian, on the drums. "Lavender Haze" and "Karma," two immediate album standouts, were co-written alongside actress Zoë Kravitz. Moreso, William Bowery (AKA Joe Alwyn) slows the album down through his co-written lyrics for "Sweet Nothing"—an intimate ballad alongside his muse. The entire album was co-produced by Jack Antonoff, frontman for the band Bleachers.
Arguably the most depressing track, "Bigger Than The Whole Sky," released as part of the 3 a.m. edition of the album, has received rave reviews and has united communities on many social media platforms. The sad ballad immediately moved listeners as Swift explored deep loss—one that many listeners who have suffered miscarriages found comfort in. The track has encouraged many to open up about their own experiences with pregnancy loss and trauma.
With its laidback vibe, Midnights feels like a dazzling shimmer of light—even despite the dark environment Swift has painted. To relieve us of the day's constant drudgery, Swift has concocted the perfect album for us to just press play and sit with our own self-loathing. Through her words and melodies, Swift reminds us that we are on our own. We have always been.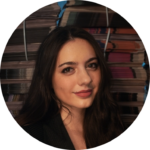 Staff Writer (Volume 48 & 49) —
Paige is in her third year at UTM, currently completing a double major in Biology for Health Sciences and Psychology. She previously worked as an Associate Editor for A&E in Volume 47 of The Medium, and as a Staff Writer in Volume 48. When she is not writing review articles for A&E, you can find her watching rom-coms, writing inappropriate Letterboxd reviews, playing basketball, cruising on her motorbike, and fangirling over the icon that is Taylor Alison Swift. You can connect with Paige through
Instagram
 and 
Letterboxd
.