SpinUp—the new wet lab incubator to foster scientific entrepreneurship

Between September 14 and October 31, 2023, aspiring science entrepreneurs can apply to SpinUp—an incubator that provides affordable wet lab research space and supportive programming.
On September 14, 2023, SpinUp, the University of Toronto Mississauga's (UTM) pioneer wet lab start-up incubator opened applications to science entrepreneurs in need of an affordable, well-equipped space in which they can innovate and research. As a start-up incubator, SpinUp will act as a springboard for aspiring life science entrepreneurs to materialize their ideas, expand, and garner the support of investors.
When applying for SpinUp, applicants can also opt-in to the Blue Ticket competition, which is supported by Merck, a biopharmaceutical company. As part of the competition, one winner will be granted a year of free SpinUp membership, a C$5,000 prize, and opportunities to connect with Merck professionals. Applications for both SpinUp and the Blue Ticket program are evaluated by UTM leadership and expert advisors. Applications are due by October 31, 2023, and the results will be revealed in January 2024.
In an email interview with The Medium, Raquel De Souza, Director of SpinUp, explained the opportunities the new wet lab start-up incubator provided for aspiring science entrepreneurs. She clarified that "[a] wet lab is a specialized lab space where drugs, chemicals, and other types of biological matter can be analyzed and tested by using various liquids."

"University researchers in Canada—in biology, chemistry, psychology, pharmaceutics, medicine, and many more fields—often make discoveries that inspire a big innovation idea. But they don't always have the right facilities to take these ideas to the next level of commercial development," explained De Souza. The researchers may also require facilities more advanced than academic laboratories shortly after starting their innovative journey. For science entrepreneurs just starting out, expenses for advanced equipment and external laboratory space are liable to be financially overwhelming.
To be located within the New Science Building—where construction is anticipated to finish in the year 2023—SpinUp will be offering lab space that has "biosafety level 2 capabilities" at less than half the standard market rates, for a maximum of two years. The space will contain a "dedicated lab bench unit and fume hood, plus shared life science equipment and infrastructure, [such as]: cell and tissue culture capabilities, chemical storage, core laboratory equipment, etc."
Participating science entrepreneurs will have access to entrepreneurial resources and support, as well as certain UTM research facilities—such as the Nuclear Magnetic Resonance Centre and the Optical Microscopy Imaging Facilities.
Eligible applicants for SpinUp must be an early-stage start-up with a need for financial assistance in securing a wet lab workspace, and "are a part of a partner program." The applicant must maintain an interactive relationship with the UTM community, where they may hire students as interns and for work-study positions, offer insight as guest speakers at programs, or engage in collaborative research.
Onboarding for successful SpinUp applicants is expected to take place in early 2024, with programming starting in the spring. Some programs planned include workshops, networking events, and competitions. This programming will be open to all UTM students as well.

As a finishing thought, De Souza wrote: "In the long term, we envision SpinUp as a vital component of the pipeline that will shepherd innovations from their earliest stages through to scale-up, growth, and international success – enabling our home-grown innovations and talent to grow and prosper without needing to leave our local and national ecosystems due to lack of available wet lab space. We envision supporting a steady influx of innovative startups with the potential to significantly impact health and society."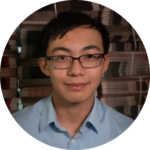 News Editor (Volume 49) | news@themedium.ca — Larry is a third-year student specializing in accounting. He finds writing to be an outstanding medium to spread messages, thus being a phenomenal way to express oneself and to have one's voice heard. Through his contributions to The Medium , Larry hopes that everyone can witness how enjoyable and invigorating writing can be, such that they too may be inspired to write out their stories. When he's not studying or writing, Larry will probably be learning Japanese or listening to music, all the while contemplating what life's next story would be.